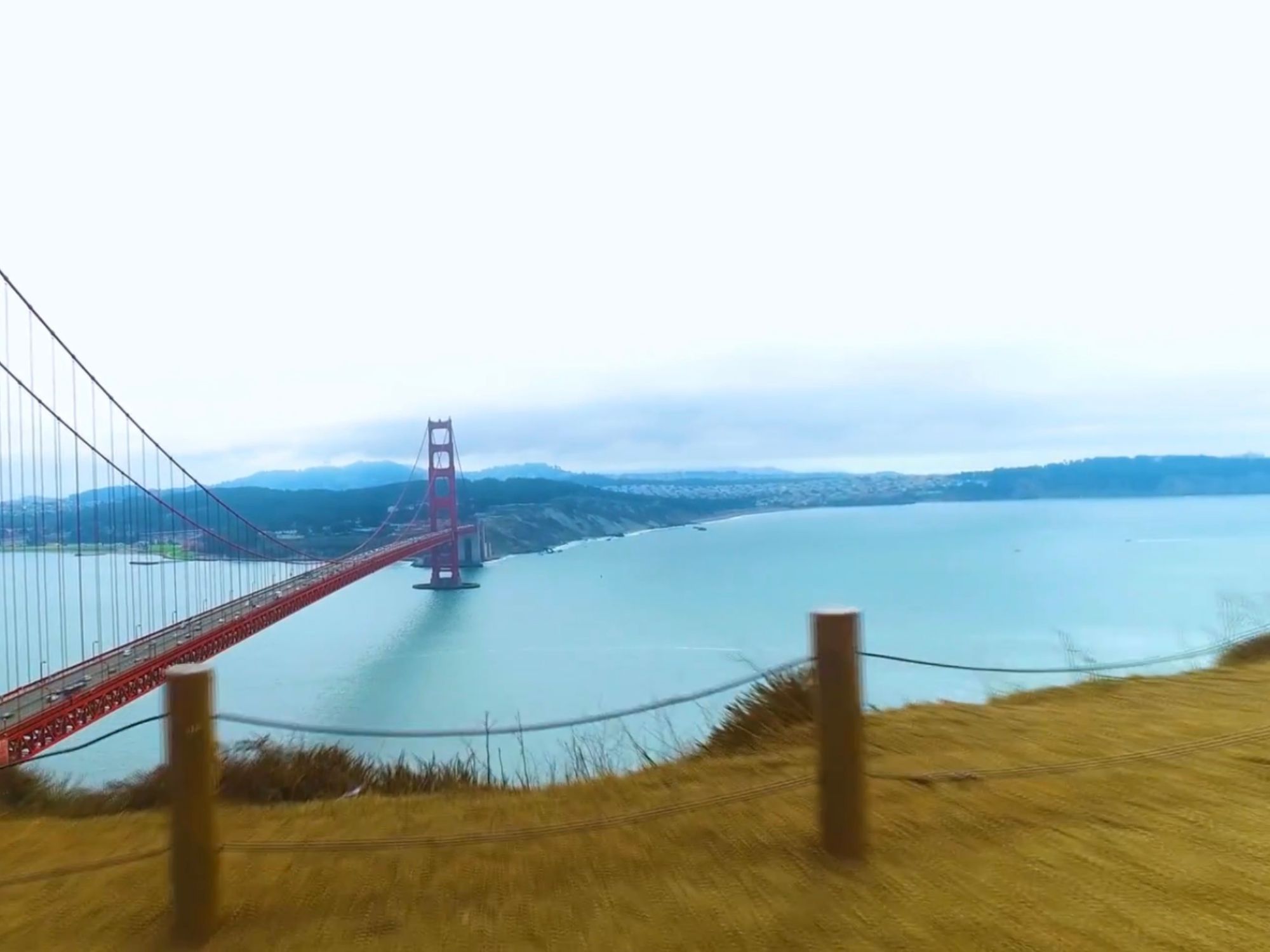 The private market for California apartments is Alive & Well
Quick N Dirty: On 9/14/20, Aimco announced a series of transactions including the formation of a $2.4 bn JV with a passive institutional partner whereby LA/SF apartment properties were sold at a 4.2% cap rate/$592k per unit valuation.  This valuation is consistent with what I've presented for Essex Property Trust (full writeup here with follow up here) ESS, AvalonBay (full writeup) AVB, and Equity Residential (full writeup)EQR.  All fair value targets (ESS $350, AVB $225, EQR $85) maintained.  The REITs are incredibly cheap (worth 45-60% more than current share prices).  Why? Poorly understood by public market investors.  The private market is THE MARKET and it is saying something completely different despite all the negative headlines.  
Also note, the deal came together with LA reeling because of covid/ Hollywood/ tourism shut down.  Also the deal was negotiated while parts of LA and huge swaths of SF area were LITERALLY ON FIRE. The next LA or SF real estate trade is likely to be at an even lower cap rate (higher valuation).
Separately, MultiHousingNews reported that AvalonBay (AVB) sold its Venice property to TA Realty for $65 million, over $850k per unit (after adjusting for 9,400 square feet of retail included in the deal) and an estimated sub 4% cap rate.  
A bit more:
Aimco, a multifamily REIT announced the planned spinoff of its development business into a separate entity.  The market took notice with shares up over 7% on the news.

Less noticed was that Aimco sold 12 California apartment buildings at a cap rate of 4.2% (on trailing NOI which is favorable).  This represents 97% of pre-Covid asset value.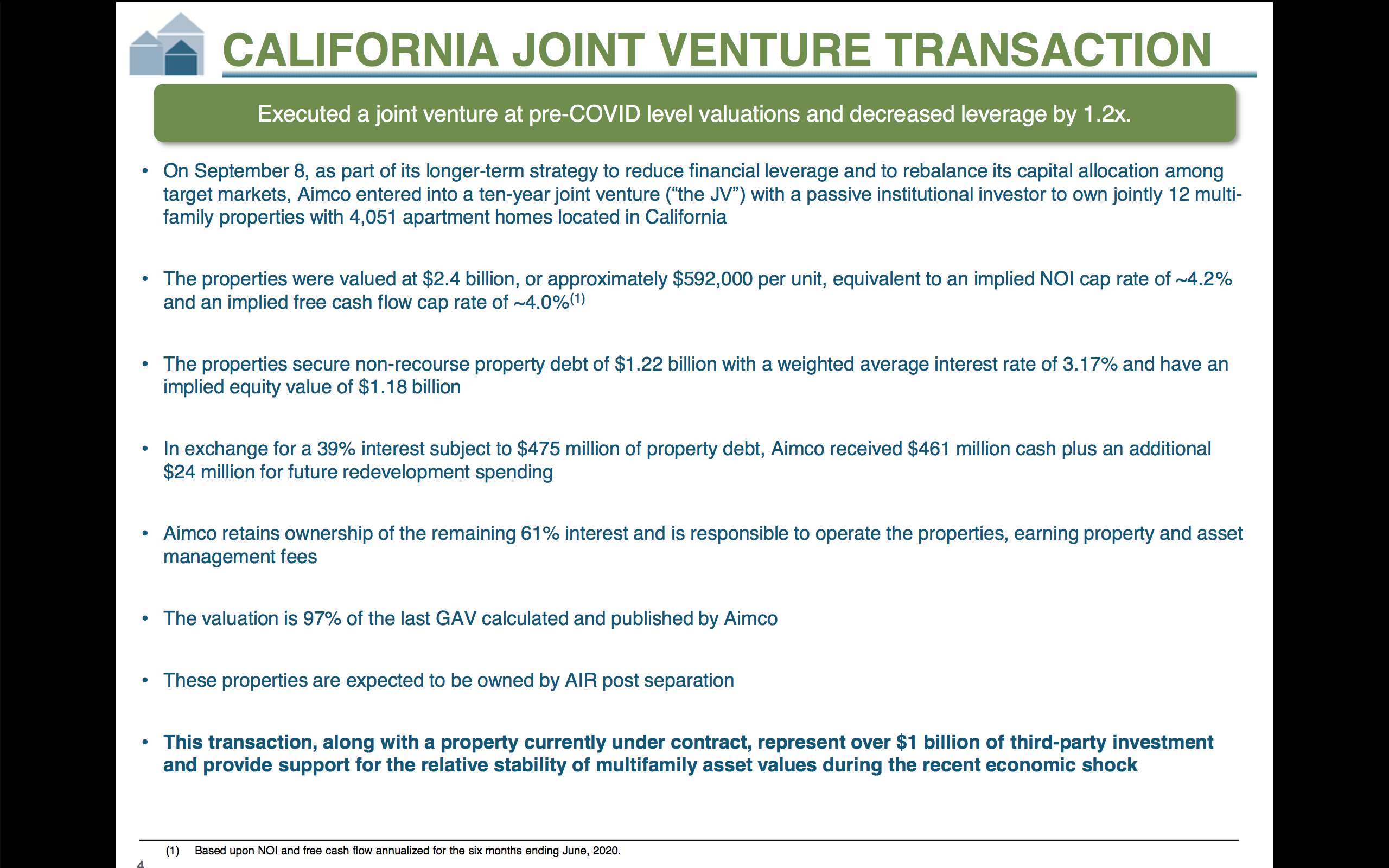 From Aimco Transaction Presentation
As a secondary check, the transaction price per unit was $592,000 which is significantly in excess of where California heavy apartment REITs like ESS, EQR, and AVB are trading (ESS is around $360,000 per unit).  This transaction confirms that California apartment assets are worth much more than the price at which California apartment REITs trade. Upside to NAV is 45-60% for AVB and EQR and the great ESS. With stable revenue, strong balance sheets, and trading at a significant discount to NAV, California heavy apartment REITs are highly asymmetric investment opportunities with 4%+ dividend yields.
On Monday, 9/14, apartment REIT Aimco (AIV) announced a series of transactions to unlock value for shareholders.  The set of transactions include:
1) Separation of Aimco stabilized REIT portfolio from its lumpier, less predictable apartment development business.
2) The sale of 12 California apartment buildings into a JV (total value of $2.4 billion - this is not a small transaction), of which Aimco will own 61%, with its unnamed institutional partner owning the remaining 39%.  In addition, Aimco will receive property and asset management fees for managing the properties and JV.  
3) The leveraging of the Joint Venture to 51% LTV using non recourse financing, which approaches the lower end of leverage levels seen in the private market (but still very conservative -we typically see 60-80% LTV) .
4) The expectation of a 5% dividend hike for 2021. The stabilized multi-housing REIT is no longer burdened with cash requirements (and associated uncertainty) of development.  
This is unambiguously positive news for long term shareholders as 1) confirms private market value of assets - while share prices are off 30%+ private market transactions indicate a fall of less than 5% (2) dividend increase shows confidence in the health of the business (3) shows ready appetite of lenders to finance high quality stabilized apartment assets in California.
Interestingly (but unsurprisingly), on the transaction conference call (in response to Goldman analyst Richard Skidmore who downgraded the stock last week and still has not gotten back to me) management noted that AIV's best California properties will be retained for the stabilized apartment REIT.  Coupled with the AVB Los Angeles transaction noted above (sub 4% cap rate), it indicates that the fair private market value for institutional grade apartment assets in California is likely 4% or below.  
It is also worth reminding readers that this transaction occurred in areas hard hit by not only the pandemic, social unrest but areas which are near wildfires which have lead to very poor air quality and apocalyptic scenes.  I suspect AIV could've fetched an even better price in a more 'normalized' environment.

I have picked my favorite REITs (ESS/EQR/AVB) and presently don't own Aimco. This transaction could knock Aimco out of the S&P 500 which may create an opportunity for opportunistic investors in the future.  
I love to buy undervalued assets that I know very well from forced sellers (SPY/index fund managers) who generally know little, if anything about the companies in their portfolio, and are not at all price sensitive.  I'll let you know if I end up getting involved here.
Lastly, the book of Face (FB) bought another $390 million of West Coast office space.  Evidently not everyone will work from home all the time.  Twitter (TWTR) and VMWare (VMW) announced pay cuts if workers leave SF Bay.  Interestingly it sounds like most would be leaving for LA or San Diego (ESS, EQR and AVB) all have a large presence in those markets too.  
I'm making some calls & talking to some people and will hopefully have more on this later in the week but all is well on the Western front for apartment REIT investors.  
The old adage is to buy when there is blood in the streets - today it seems we have the opportunity to buy fantastic assets with excellent management teams paying very attractive dividends because everyone is freaked out about the pandemic destroying the best places in the world (LA/SF) and there are salient images of fires/the apocalypse everywhere.  Seems like an opportunity to me.
This is not investment advice & it is entirely possible that Eric Bokota doesn't know anything about anything.
Eric Bokota is LONG ESS, AVB, EQR.
Private Eye Capital Newsletter
Join the newsletter to receive FREE actionable investment ideas.
---