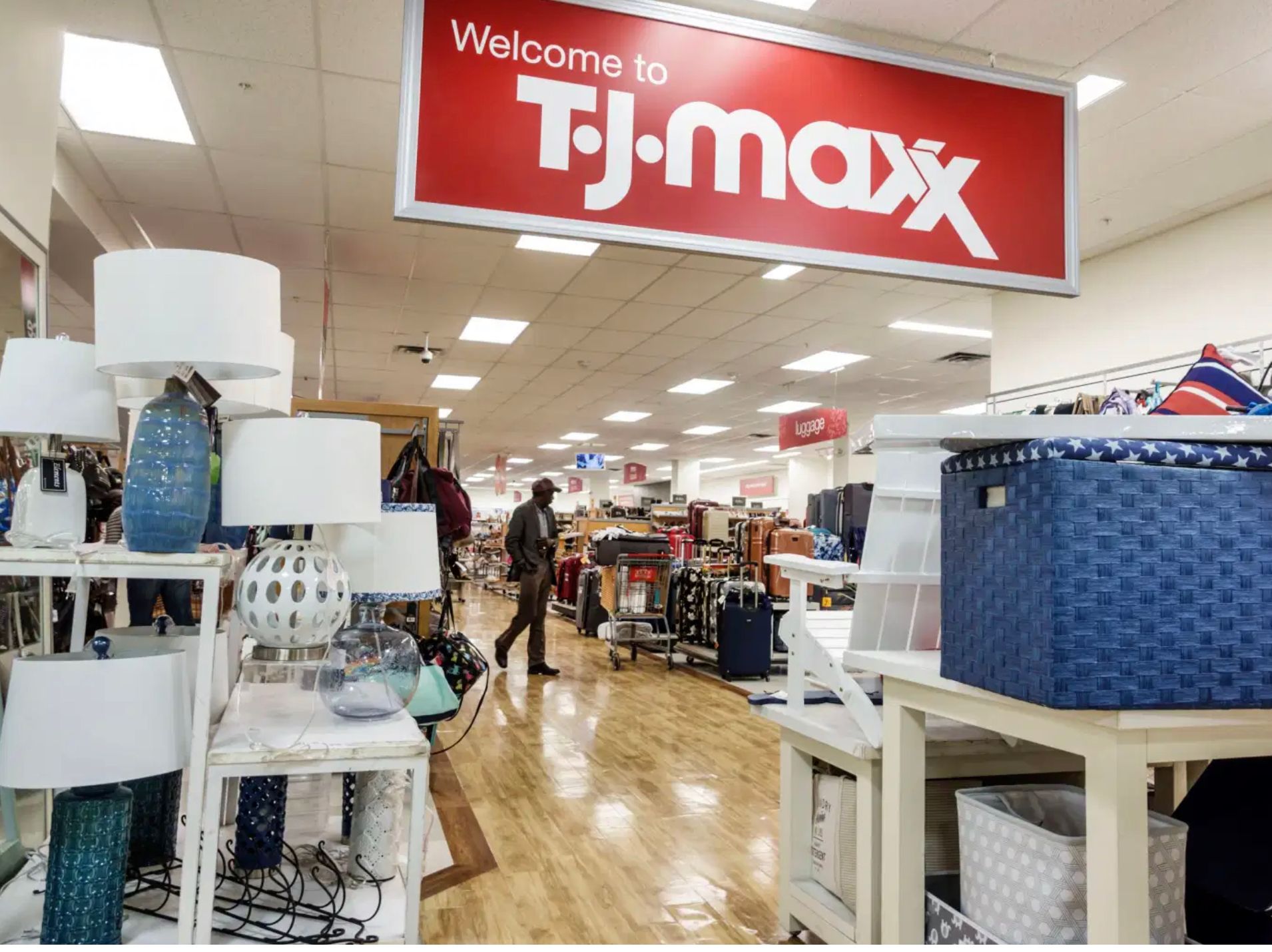 Offprice retail is on sale -TJX ROST BURL
First of all I apologize for the title. Seriously.
I've made an investment into the three off-price retail leaders TJX, ROST, and BURL. While many (most?) apparel retailers have been disastrous long term investments, off price retailers TJX and ROST have been structural winners/disruptors (moreso than online retailers like Amazon, off price has been the cause of the decline suffered by other apparel/shoe/home goods retailers) which have compounded shareholder wealth for decades.
Some readers may recall that I'd previously written about TJX during 2H20. Shares of TJX ROST and BURL appreciated significantly during 1H21 (I exited as shares approached full valuation) as sales bounced back strongly due to stores re-opening to customers flush with stimulus checks. However, over the past few months shares of all 3 have fallen significantly (while TJX is off -20% or so from its 52 week high, BURL is down nearly 50%).. Shares have fallen as 1/ all 3 off price retailers have seen operating margins compress as a result of higher shipping costs as well as increased wages 2/ calendar 2022 will be a year of tough comps for retailers as 2021 saw record performance here coming out of COVID (2 year comps, 2021 v. 2019 in the teens) 3/ inflation/interest rate hikes have fueled concern about consumer spending.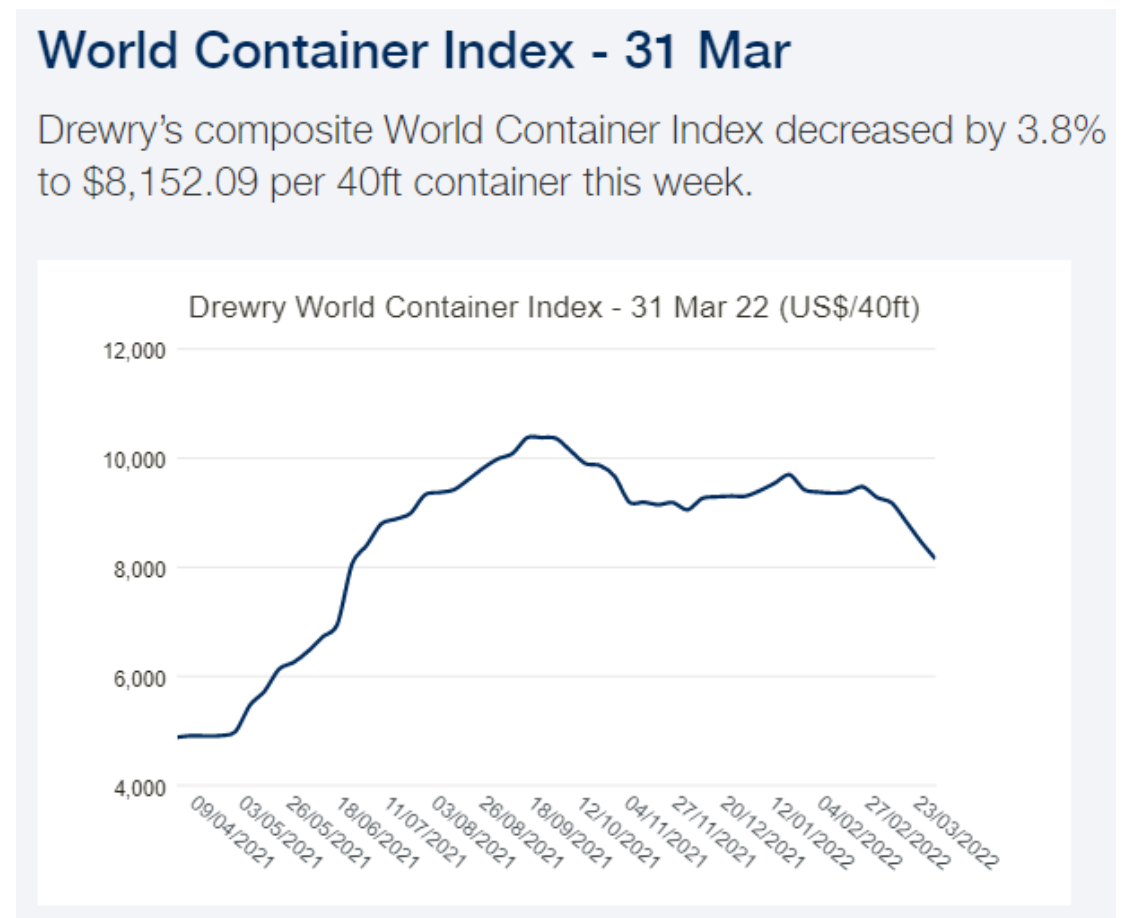 With regard to operating margin compression, I expect that margins will return to historical levels over the medium term. The largest component of inflation has been an increase in overseas freight costs which is a direct result of the supply chain fiasco resulting from COVID/COVID policy. As supply chains normalize, shipping rates should normalize. On the other hand, labor costs tend to be sticky and represent a structural increase in the cost of doing business. However, TJX and ROST have discussed pricing initiatives to offset higher inflation with TJX noting on its 4Q call that initiatives have been successful and present a multiyear opportunity. I'm curious to see what the impact will be given that apparel is a deflationary category and TJX/ROST haven't concerned themselves with taking price for decades. Here is TJX management on the FY results call talking about price:

He goes on to say that TJX expects to return OPMs to historical levels:


While the current environment is the most challenging these companies have faced in decades, all 3 should come through in a stronger competitive position. I expect that competing retail formats will face greater difficulties and continue to cede share to off price. Off price retailers have significant competitive advantages versus traditional retailers including:
1/ large enthusiastic customer base who have developed the habit of patronizing stores frequently in the hope of finding bargains. The 'thrill of the hunt' which drives repeat visits reduces the need for advertising expenditure. TJX in particular has been a leader in category expansion (shoes, luggage, house wares, toys, accessories, pretty much you name it they have it) finding new ways to sell more to its enthusiastic customer base. ROST and BURL are doing this as well.
2/ TJX buys over $30 billion worth of merchandise annually making it one of the biggest purchasers of apparel, footwear, and home goods. While smaller, ROST is also a significant customer for its suppliers. Beyond sheer size, TJX ROST and BURL have multiyear plans to increase their store count significantly (whereas most retailers are either shrinking or flat)). As such, TJX ROST BURL are an attractive customer to brands looking to grow.
Further, supply related disruptions are likely to create near term buying opportunities for off price retailers. Many shipping containers bound for competing retailers have been stuck at sea -missing their selling season. Much of this merchandise is likely to end up being sold to off price retailers (at favorable prices) which will be packed away and sold at season.
3/ By locating in shopping centers as opposed to enclosed malls, TJX ROST and BURL typically have rent expense of 4-5% of revenue whereas mall based competitors tend to have significantly higher occupancy expenses (non anchors are typically north of 10%).

Assuming low single digit comps, continued store growth, and operating margins returning to their long term averages and P/E in the 16-18x (in line with history), looking out 3-4 years I think we can expect annualized returns of 13-16% in TJX and ROST. As we sit today, ROST/TJX trade at ex-cash forward (calendar year 2022) P/Es of 17-18x. Thus key assumption is that operating margins return to their long term average.
For BURL, I believe there is the opportunity for even better returns - As BURL management is quick to point out, BURL lags TJX and ROST in a number of important areas: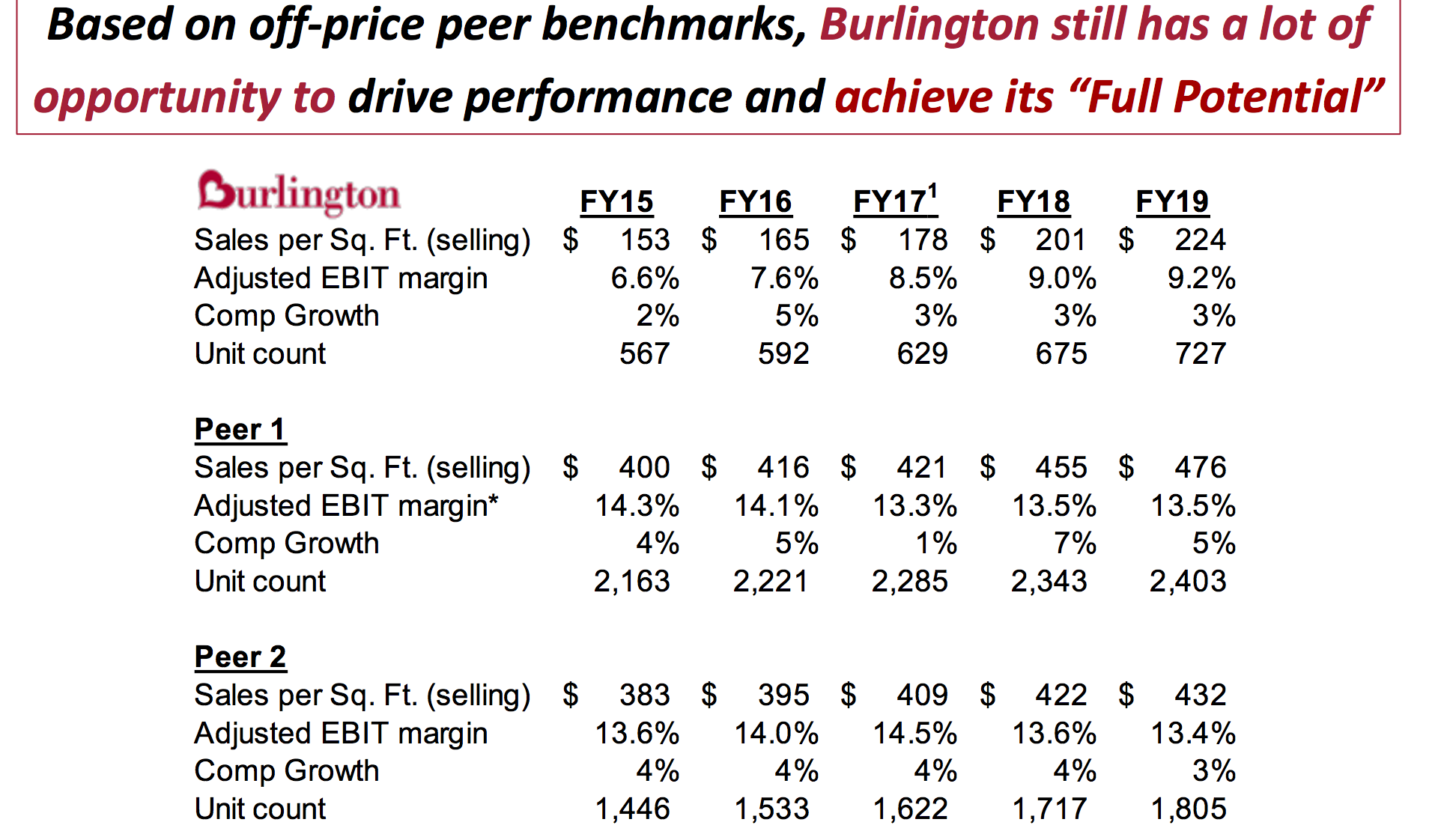 For BURL, I assume that the company makes some headway in closing the gap over the next several years: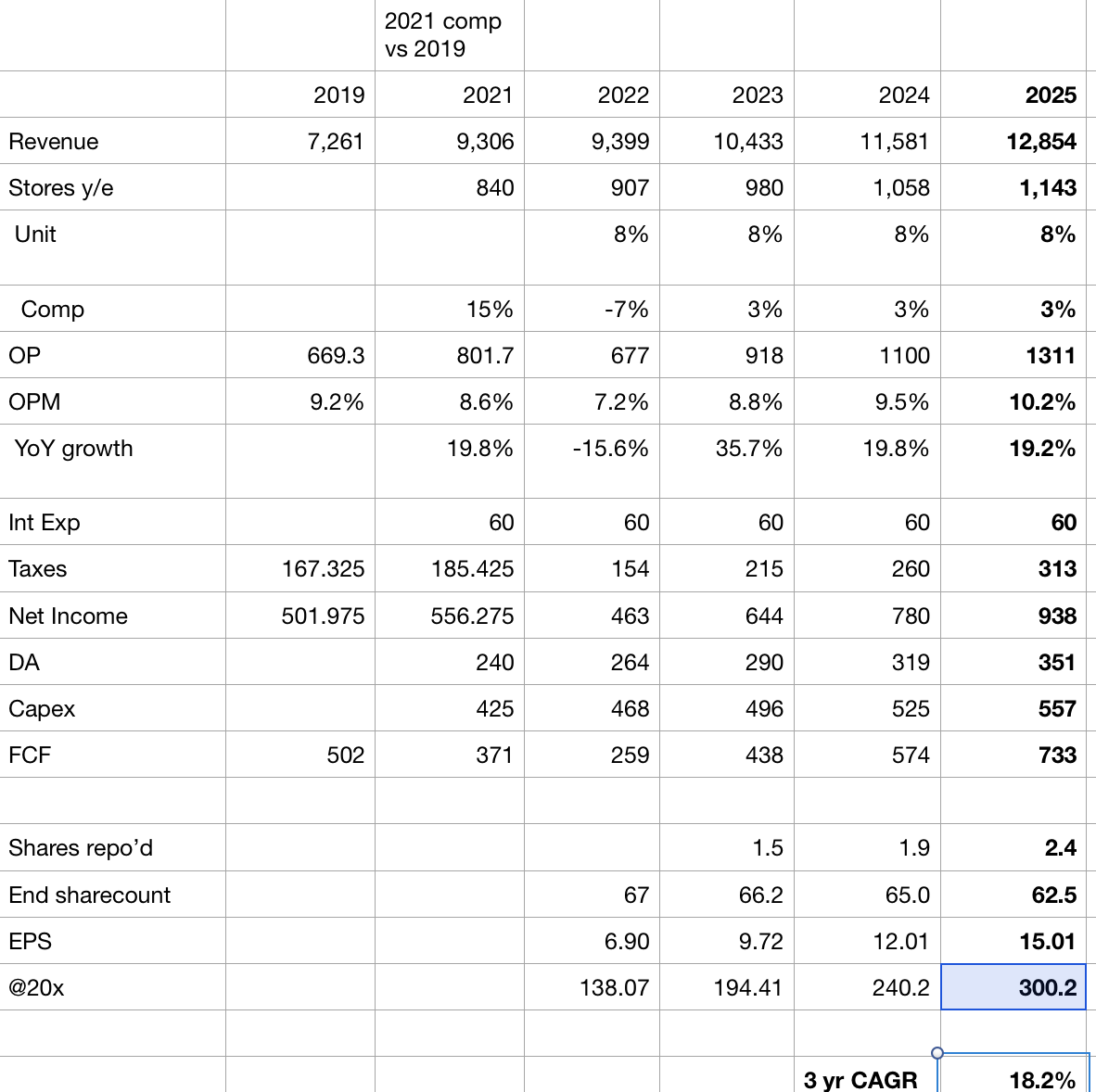 As you can see, I assume BURL grows its store count and improves sales/store while bringing its operating margins closer to TJX /ROST - ROST is a closer peer for BURL as they have similar sales mix and target customer base. A number of top executives at BURL come from ROST and they seem intent on executing the ROST playbook at BURL (as you can see from their slide they've been pretty successful). By 2025, BURL's store base is still a fraction of TJX and ROST, implying the opportunity for continued fast growth in stores and operating margins - as such, I show what BURL's valuation could be assuming a 20x multiple (+3 pts vs. the 17 midpoint for ROST/TJX). BURL shares have traded at a premium in recent years as investors have recognized the greater growth potential @ BURL vs. TJX/ROST.
While I think TJX ROST and BURL are a compelling opportunity, risks include:
1/ continued cost pressure/margin contraction
2/ tough comp (2021 comp sales were very strong) + weakness in US consumer spending make for a tough 2022
3/ the online presence of these companies is minimal - while customers have shown a willingness to forgo the convenience of online shopping in favor of bargains, it is possible that TJX ROST BURL may eventually lose share to online players or may have to invest more into their online businesses (and see margins decline).
ROST historical data:

TJX historical data:

Song:
Disclosure: Eric Bokota owns shares of TJX ROST BURL
As always this is NOT investment advice. Do your own work.
Private Eye Capital Newsletter
Join the newsletter to receive FREE actionable investment ideas.
---