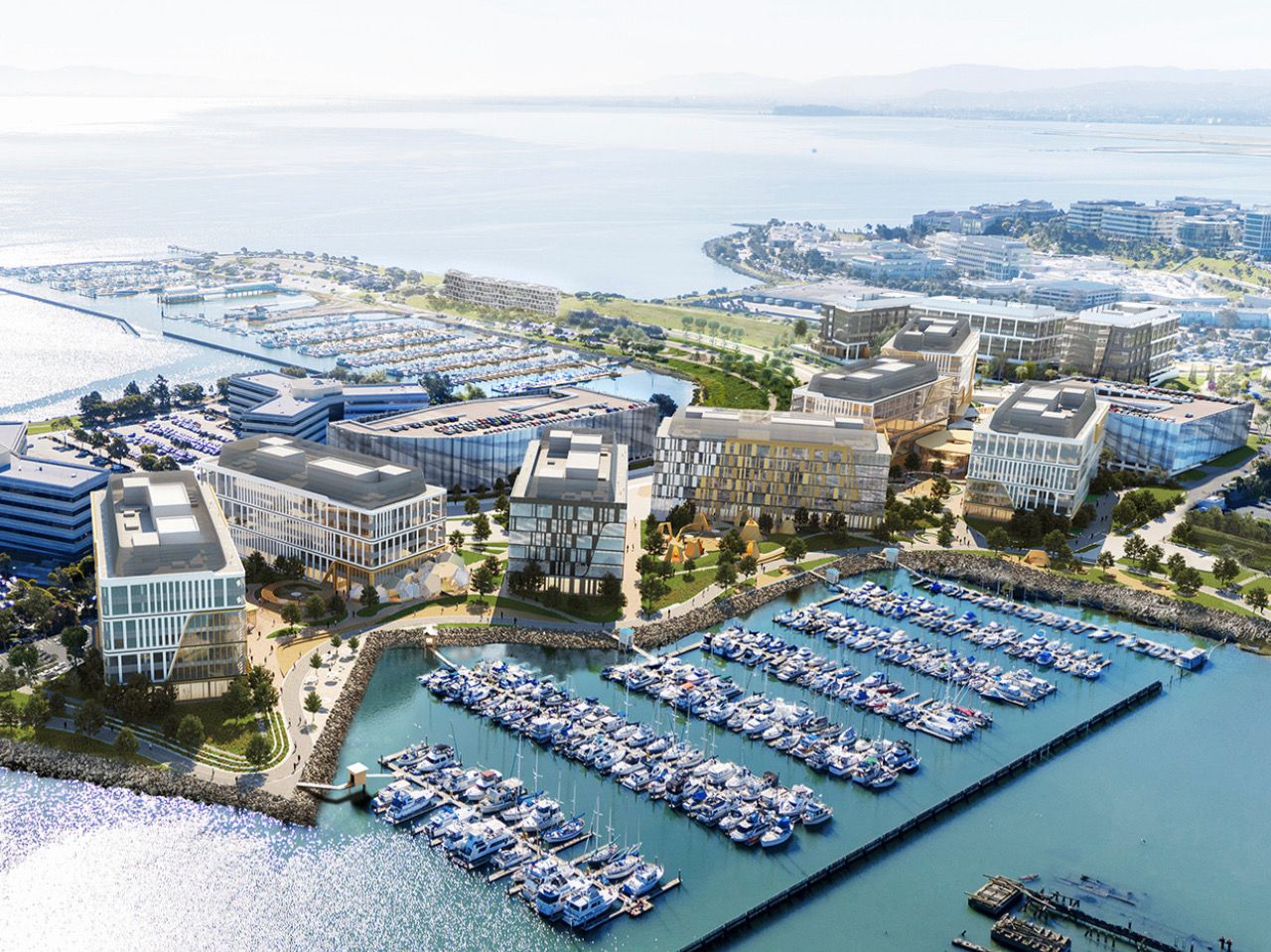 The market fears office but I love Kilroy
Kilroy Realty (KRC- find previous writeups here) -  Kilroy completed the sale of a large San Francisco office property for $1.1 billion and reported an 'as expected' set of 1Q results (office leases are long term so there aren't huge Q to Q surprises in reported results).  Leasing picked up in 1Q and cash rent spreads were +4.9%.
As the digital transition has accelerated since the onset of COVID, hiring in the tech space has surged.  Similarly VCs are funding new tech companies at a record pace (most of whom are located on the left coast) creating new demand for office space.  Management noted that leasing tour activity has picked up significantly with lease tour activity getting back to pre-COVID levels.  On the call, management noted that asking rents aren't materially different than pre-COVID for Kilroy's well located Class A office space.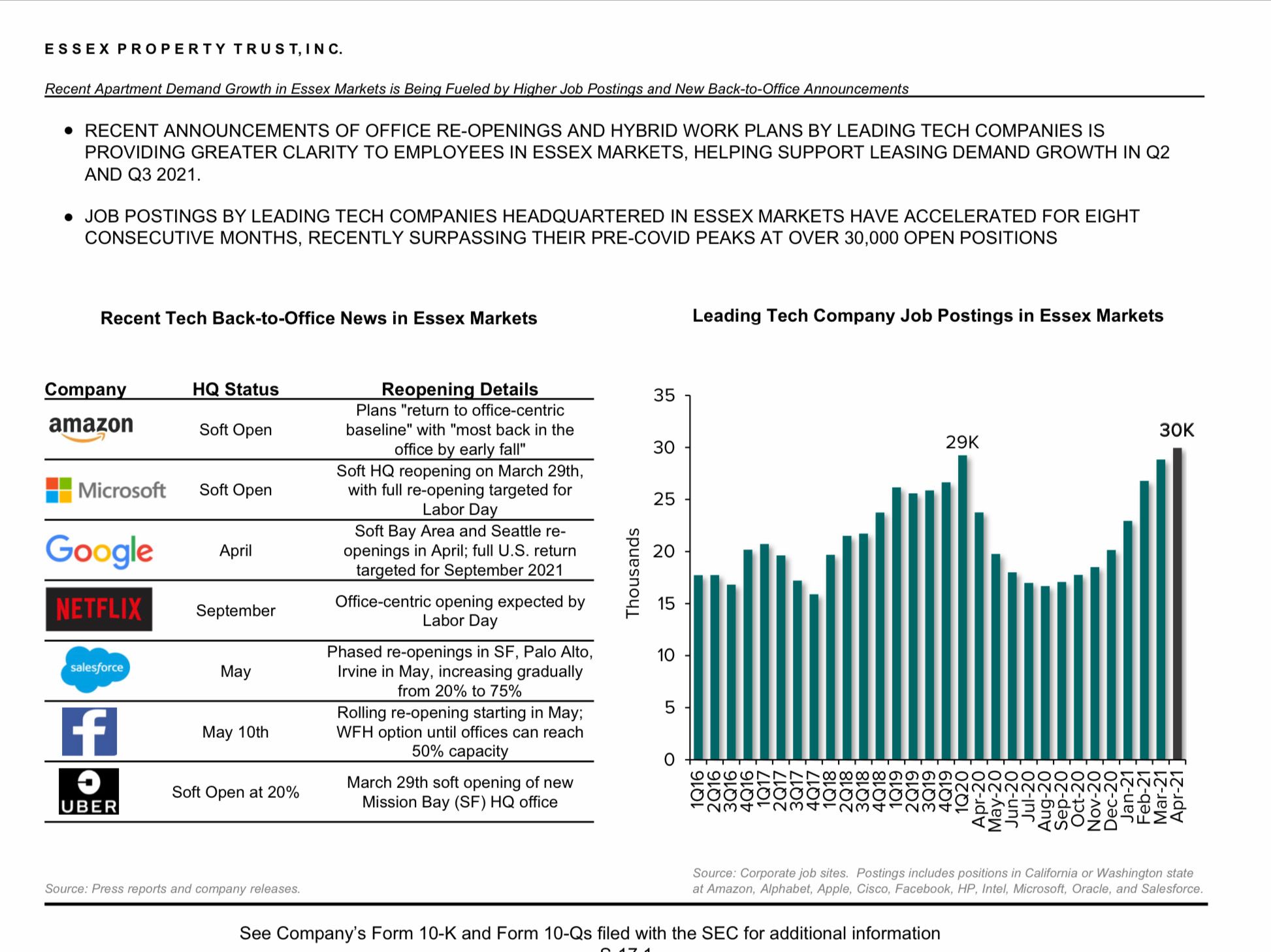 Source: Essex Properties 1Q Supplemental (note ESS operates in the same markets as KRC).
After selling The Exchange for $1.1 billion and expanding/extending a credit facility earlier this month, KRC has ample liquidity to continue to move ahead on its development plans, most of which are focused on life sciences projects.  Historically these projects have produced yield on cost of 7+% but are valued at 4-4.5% in both the private and public (ARE) market - KRC creates tremendous value for its shareholders via development.  Demand for life sciences space is incredibly strong and space is in short supply.  KRC is on track to complete Kilroy Oyster Point Phase 1 in the coming quarters (fully leased) and embark on the construction of Phase 2 in a matter of months (as you'd expect pre-leasing interest is strong).  KOP Phase 2 will  be ~900k square feet with an expected all-in cost of $1,000/sq ft.  Rents (triple net) are expected to be $73+/sq ft.  This suggests nearly $5/share in value creation (at a 4.5% cap rate) for this project alone.  
Despite several pieces of pretty good news, Kilroy shares continue to trade at a significant discount to any reasonable appraisal of value.  My NAV estimate is ~$90-100 using 5.5% cap rate for office/ 4.5% for life sciences; given management's track record of value creation, KRC should trade at a premium to NAV.  Besides KRC's sale of The Exchange in SF, relevant transactions in the office world include:
-Vornado (VNO) is reportedly close to refinancing their 555 California St property (Cl A/ Trophy) in San Francisco.  Rumored to be valued at a 5% cap rate (60% LTV).
-In 1Q, Alexandria (ARE) divested a life sciences property in South San Francisco for $300 million which equates to $1,429 per sq ft/ 4.5% cap rate.
-Columbia Properties (CXP) - an office REIT received a go private offer.  This is the second office REIT to receive a takeover approach (Paramount Group PGRE) since the onset of COVID 14 months ago.  The bulk of CXP's portfolio is located on the East Coast so this is not a great comp.  Overall the offer works out to ~$610 per sq ft and a mid 6s cap rate.
Song:
As always this IS NOT INVESTMENT ADVICE.  Do your own work.
Eric Bokota owns shares of KRC and ESS.  
Private Eye Capital Newsletter
Join the newsletter to receive FREE actionable investment ideas.
---