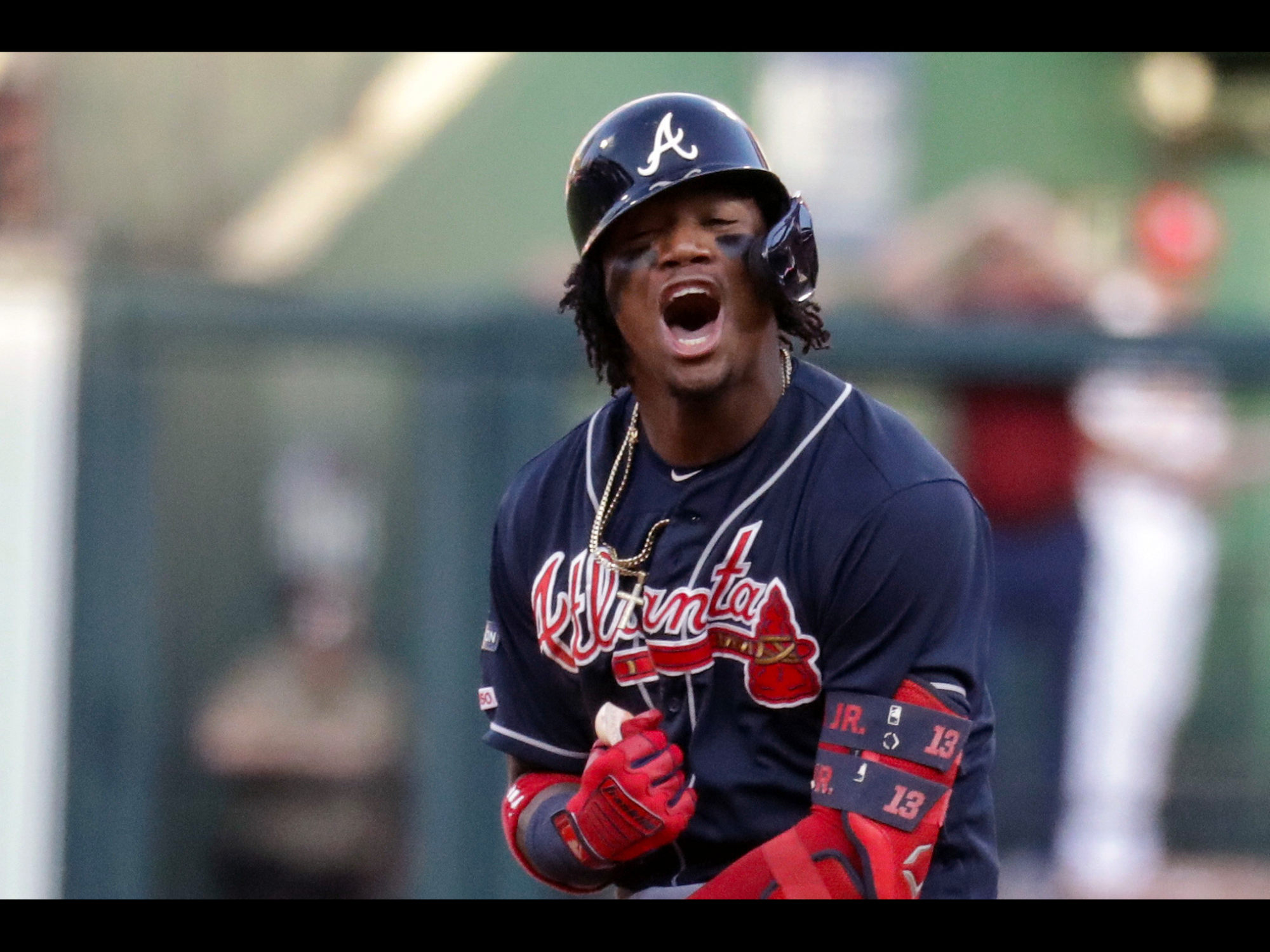 Have you ever wanted to own an MLB team?
Note: this article was sent out to subscribers in advance of web publication.  Wanna hear it first? Sign up to receive Private Eye Capital's FREE Actionable Investment Idea Newsletter.  It's FREE!
If you are like me, the answer is yes.  But how does a non-billionaire go about investing in a baseball team? It's not like they trade on the stock exchange - well one team does.  Not only does it trade on the stock exchange but 1) it is a fantastic baseball organization - both in terms of current on-field success and competitively advantaged through long term thinking & cost discipline (2) it operates in one of the best markets with very strong population growth and a super-regional fanbase (3) it sells at a meaningful discount to my estimate of private market value and includes some very valuable real estate (4) value of sports teams/media rights continues to grow -further the team being discussed is currently under-earning on its local media rights -cash flow will increase upon renegotiation (5) it is controlled by one of the greatest value creators of all time - John Malone.  What team am I talking about?  The Atlanta Braves of course which trades under the tracking stocks BATRA & BATRK.
Here is my 'pitch' on the Braves:
Braves are a top team, having a storied history (5 World Series appearances in the 1990s with a World Series championship in 1995) and having won the NL East the past two consecutive years.  The team is well managed - both on the field and financially.  To me, a financially well managed team has the following characteristics:  a) Not encumbering itself with uneconomic/high risk contracts - one of the riskiest/worst moves a team can make is signing expensive free agents to long term contracts.  This is even more troublesome when 30-something pitchers are signed to 5+ year contracts.  While this seems like an obvious 'no-no' there are plenty of teams who have fallen victim to the siren's song of Win Now at all costs. The Braves have resisted this temptation and I expect restrained, intelligent decision-making going forward (b) Selection, Development, and Retention of young talent.  The Braves have done a stellar job here.  Given the salary structure of the MLB (briefly explained below), cultivating young talent absolutely critical to on-field & financial success.  The Braves boast a top quartile farm system, making on-field success at a reasonable cost likely for many years to come.
 Anyone who has pondered playing General Manager of an MLB teams knows that there are tempting choices which appear to offer a short term reward (winning the World Series!) but have longer term consequences such as taking on long term high value liabilities in the form of signing free agent contracts (think Albert Pujols deal -there are dozens of 'Bust' free agent contracts to choose from -my friends in Chicago probably have something else in mind) or dealing top prospects for a win-now player (Cubs trading Gleyber Torres to NY Yankees for Aroldis Chapman - sorry to pick on Chicago twice).  The Braves have been a highly competitive team without signing bad long term deals (have signed short term deals with free agents like Josh Donaldson in 2019 and Marcel Ozuna in 2020 - both players contributed meaningfully to team success without saddling the team/owners with long term obligations) while keeping their minor league system strong.  Most baseball pundits rank the Braves farm system between 5-8 (top quartile; has consistently ranked in the top 1/3 over past 5 years).  This is of particular importance given the salary structure in baseball whereby young players are essentially indentured servants.  Players earn relatively low salaries ($600k-$1.5 million) during their first 3 years irrespective of performance (whereas top stars can earn ~$35 mn per season in free agency) and typically earn sub free-market wages for their first 6 years until reaching free agency.  Young talent is critical to both winning and financial success.  The Braves are very well positioned in this respect.  
In terms of current Major league talent Braves are stacked with Acuna and Albies on team-friendly long-term contracts.  I expect the Braves will remain a contender for years to come (though ultimately continuing to lose to my Dodgers come October).
2. Atlanta is a long-term growth story, here's a quick look at it's long term population growth: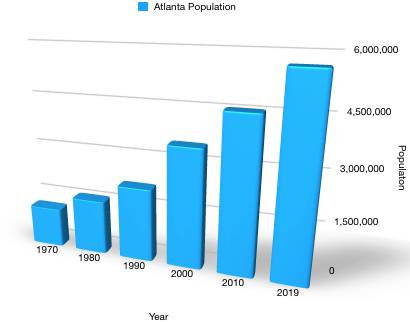 Importantly, the Braves fanbase extends well beyond Atlanta - the team has a large regional fan base: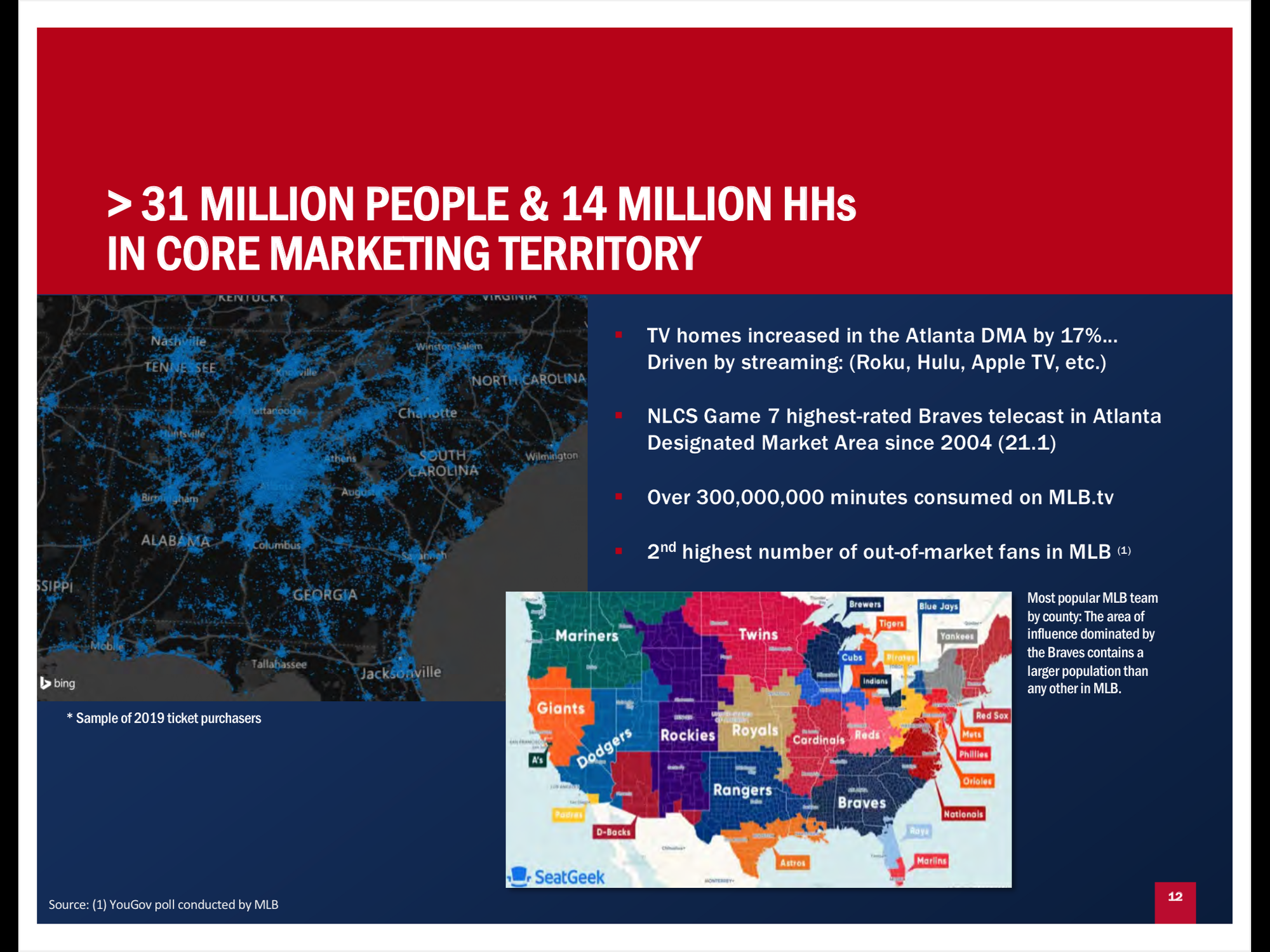 The regional fanbase is a function of having aired on TBS for decades (similar to the Cubs/WGN) and having neighboring states who lack a team of their own.  A wider fan base creates a larger total revenue pie through both media rights and merchandise sales.
Not only does the buyer of Braves shares get the team/stadium but some trophy real estate surrounding the park: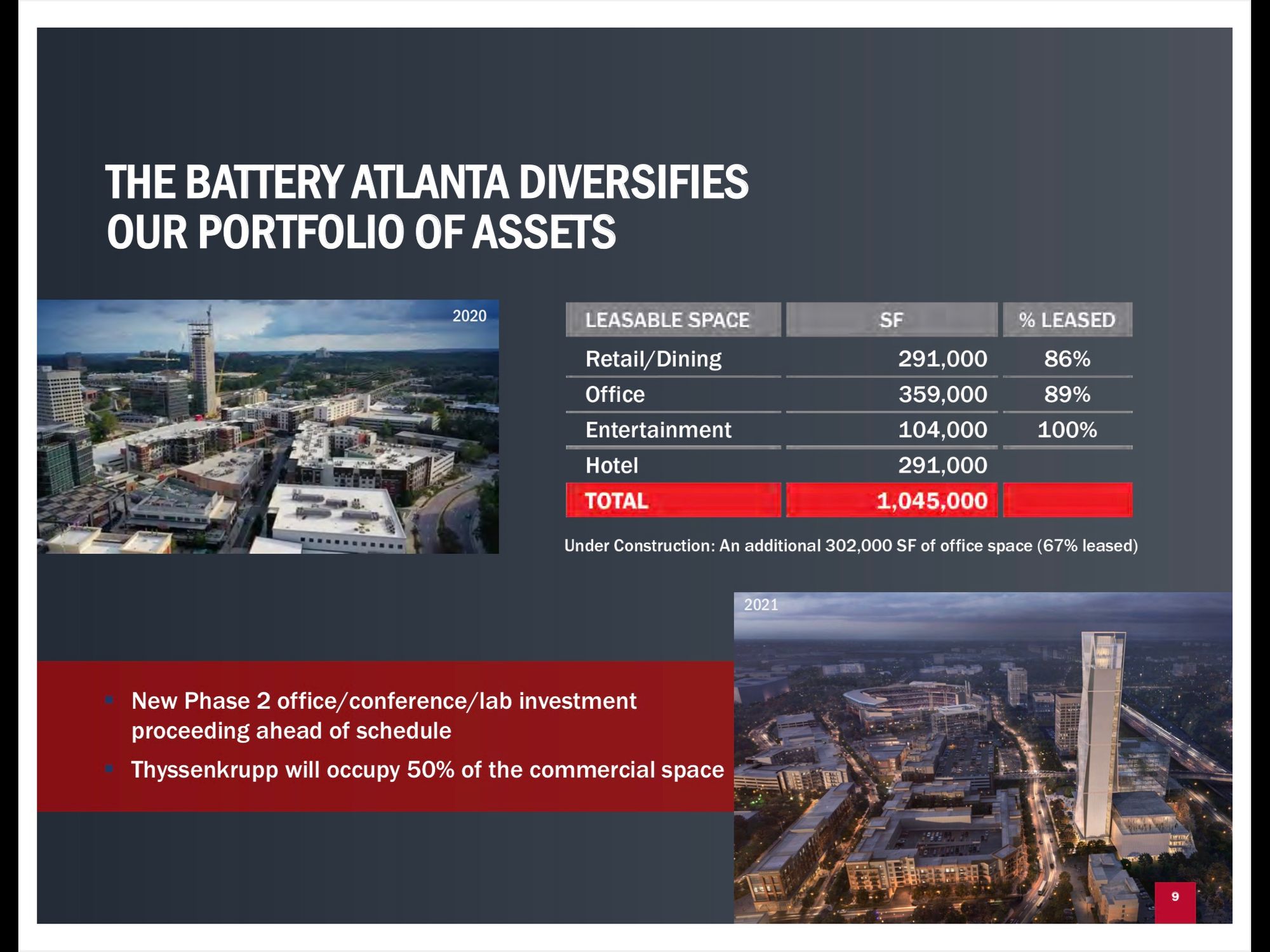 3) The Braves sell at a discount to their estimated private market value.  Aside from the Braves, there is no public market for MLB teams.
Similar to the apartment industry, the private market is THE MARKET when it comes to MLB teams.  To guesstimate the value of the Atlanta Braves, What have MLB teams sold for in the private market?  While transactions are few (again there are only 30 teams), recent history suggests 4.5-6.7x operating revenue.  At Investor Day in November, the Braves included a slide which is a helpful way to think about valuation (note that the share price has since increased to ~$25.50):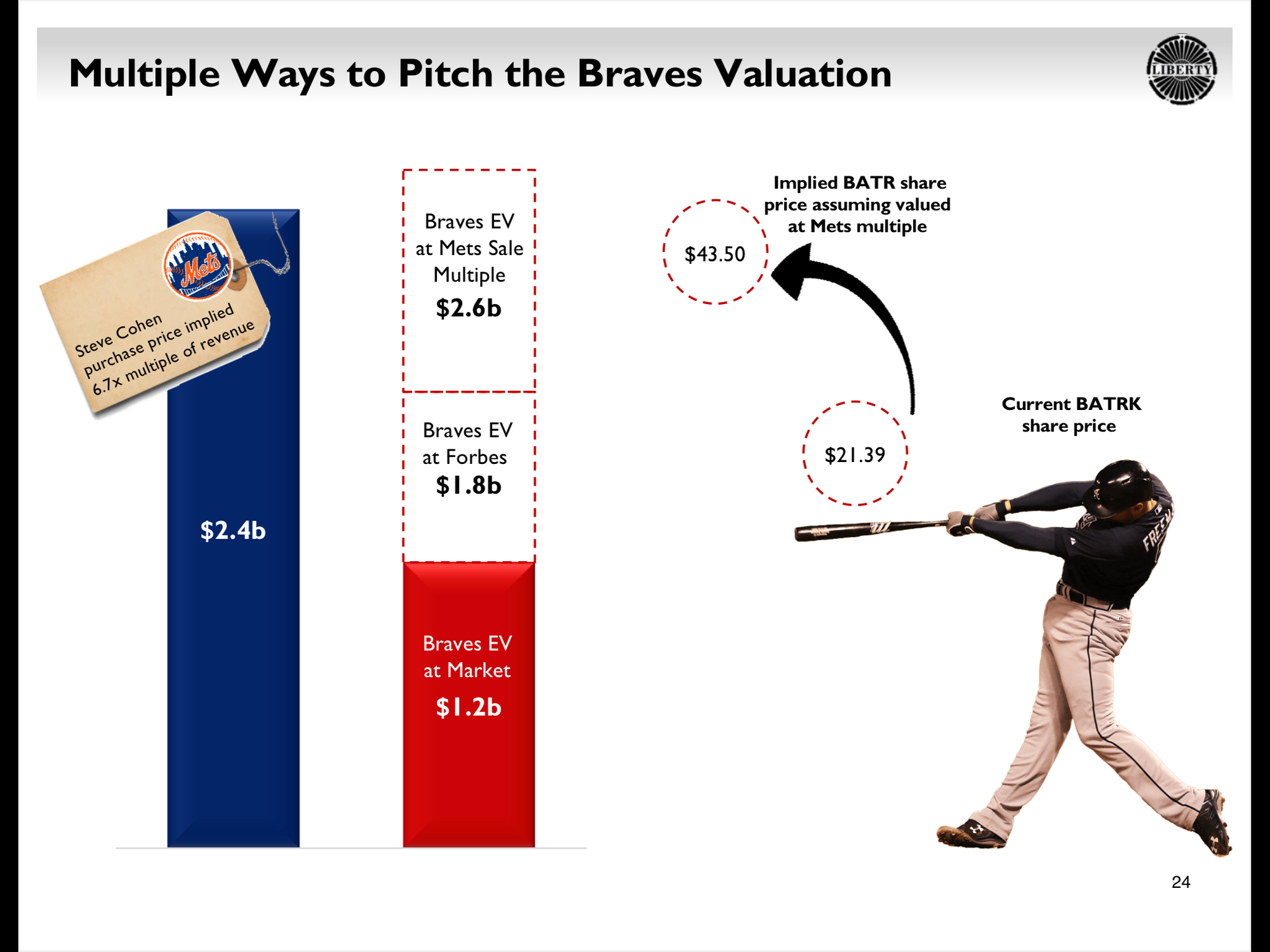 Note that while Forbes values the team at just $1.8 billion, Forbes valuations have generally turned out to be too low - on average the last 50 professional sports franchise transactions have fetched prices 20+% higher than the most recent Forbes valuation.
As we sit today, the Braves are valued at the low end of 4.5-6.7x range and below their Forbes value.  If you've read this far, you have surmised that I believe that the Braves are a far above average MLB franchise both insofar as 1) Atlanta is a considerably better than average market (2) run the team successfully but in sustainable and cost controlled manner.  
It is interesting to think about the Braves valuation relative to the recently sold Mets.  On the one hand, the Mets operate in a considerably larger market - New York is the largest metro in the country.  On the other hand, New York has a slower growth profile and more importantly, the NY region is shared with another team...what are they called?...oh right the Yankees- the most popular team of all time.  The Braves have a local monopoly and operate in a faster growing market.  Similarly, the Mets have been poorly run (no success at MLB level and one of the worst farm systems).  Also the timing of the sale was far from optimal given that there were no fans in the stands in 2020.  The flipside is that there are more billionaires in NY/with ties to NY and this buyer appetite means increases the multiple for the Mets (a somewhat similar argument is sometimes offered for why trophy Manhattan office RE sometimes trades at a a sub 4 cap).  There are puts and takes here but I don't know that the Braves are worth much less than the 6.7x revenue multiple fetched by the Mets.  Were that the case, shares would have material upside (70% upside).  
4) The valuation of MLB teams/sports teams continues to grow -largely driven by media rights.  The advent of OTT services makes sports a rare 'must have' piece of content for local broadcasters/regional sports networks (like Sinclair which operates the RSN for the Braves).  It is possible that new media players like GOOG, FB, AMZN, AAPL could bid for sports rights in the future.  
The Braves currently receive about $85 million per year on their local media deal (signed in 2014; expires in 2027) which looks to be 30-50% below market.  
On the back of escalating media rights, professional sports teams have shown strong annual appreciation
5) The Braves are controlled by John Malone.  Yes that John Malone.  I'm not going to rattle off his achievements but 1) he is self made and worth $10+ billion and one of the great builders of shareholder wealth of all time (2) he is one of the eight Outsiders.  Read it.  Also Cable Cowboy.  
The supply of MLB teams is limited -there are only 30 teams in the MLB, only one of which operates in Atlanta.  The Braves are truly a unique asset.
Given financially stable ownership operating from a position of strength, when it comes time for the franchise to be sold, it will be a sellers market.  This is an important point as team sales are rare and can result in forced/poorly-timed sales due to mismanagement (Frank McCourt and the Dodgers; Wilpons and Mets).  Similarly the sale of the Seattle Mariners in 2016 was driven by corporate decision-making at parent Nintendo.  With a sustainable financial profile and John Malone in control, we can be reasonably certain that the Braves won't be 'fire sold'.
When it is time to sell, given the shortage of assets available in the open market, coming from a position of strength it will be a seller's market.  I can't think of anyone I'd rather have representing my interests (and his own) than Malone.  
Here's another way to think about it: Some newly minted multibillionaire (so many created over the past couple years as valuations of most things have gone parabolic) will want to own an MLB team.  There aren't many for sale.  But if the price is right, the Braves are for sale.  Co-owner John Malone is negotiating for you.  
No song today - Instead: the best baseball broadcaster of all time discussing the hottest topic in 'investing' today:
As always this IS NOT INVESTMENT ADVICE.  Do your own work.
Eric Bokota owns shares of BATRA/BATRK.  
Private Eye Capital Newsletter
Join the newsletter to receive FREE actionable investment ideas.
---