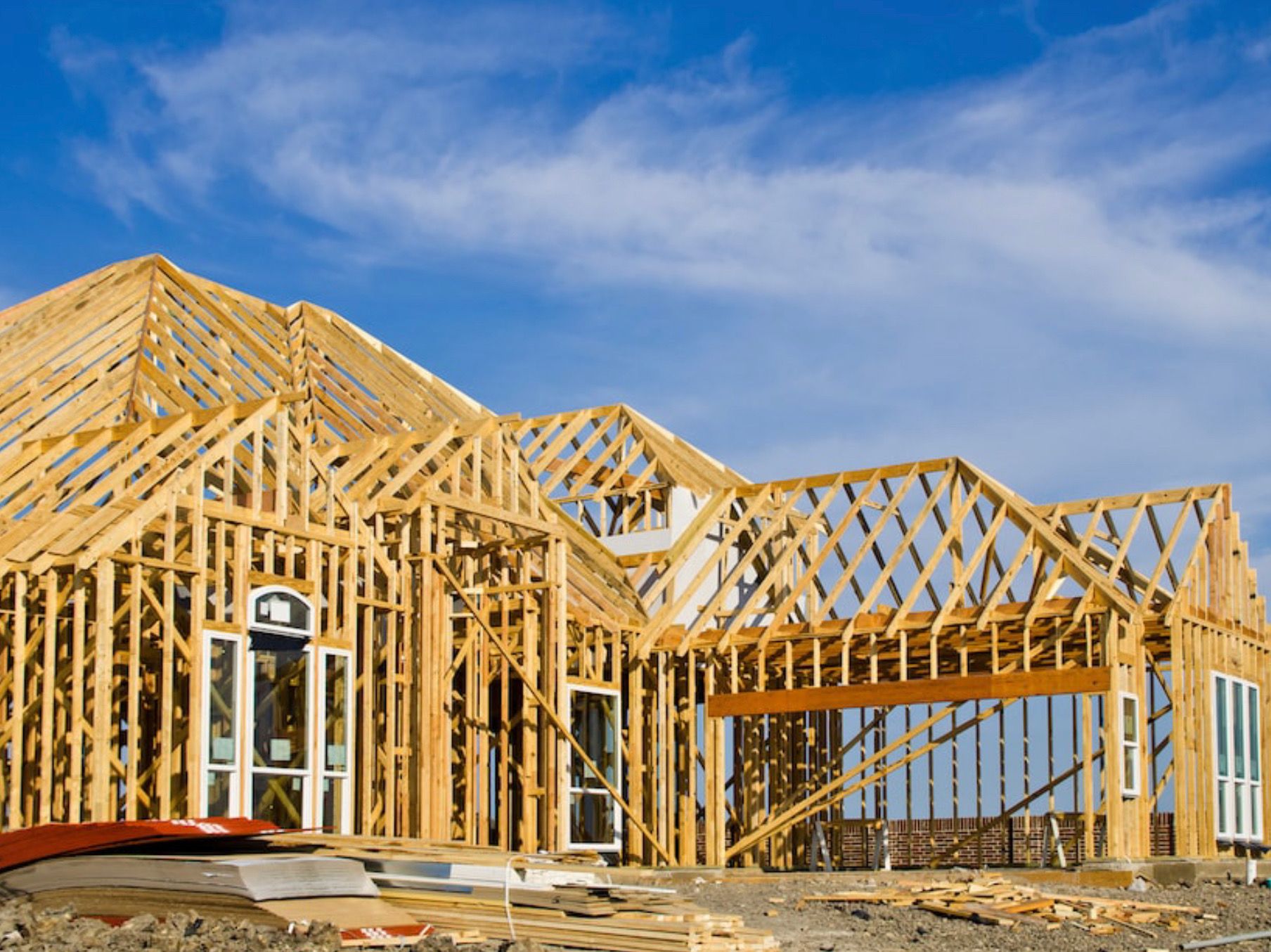 The US Homebuilding BOOM! has a Long Runway
NOTE: THIS IS A WORK IN PROGRESS - I expect to have it close to complete by the end of the week (May 14 or so).  This is a prelude to a New Investment Idea in the US homebuilding space which I will also be completing in the next week or so - sign up for FREE to receive it in your Inbox.  
Summary:
The US housing market is on fire and it is a sellers' market. Median home prices in the US are up 17-18% in the past 12 months.  Existing home inventory is at all time lows (~1 month of supply; houses selling in record time < 20 days).  
The conditions are such that the only way to balance supply and demand is for the number of new homes built in the US to be significantly higher than has has been for the past decade.
Demand is not merely a function of a COVID 19 driven move to the burbs but is driven by the maturing of the millennials (largest generation who is now in their 30s -> marriage, children, move to suburbs).
Since the global financial crisis 12-13 years ago the pace of single family homebuilding has NOT kept up with demand.  Freddie Mac estimates a housing deficit of 3.8 million units.
While prices home prices have surged over the past year, home affordability is high due to near all-time low mortgage rates. Meanwhile household savings rates soared in 2020  
COVID has increased the number of jobs which can be done from anywhere - this will allow homebuyers to move further from cities where land availability is greater and land/home prices are lower.
Unlike the housing boom of 2004-2006 which was fueled by lax lending, today's mortgage lending standards remain tight indicating a much more sustainable housing/homebuilding boom.  
Institutional demand for Build-for-rent single family homes adds further strength to the homebuilding market - 2020/ 1Q21 results from Invitation Homes (INVH - writeups here and here) and American Homes for Rent (AMH) have generated strong rental growth and are actively growing their portfolios.  Institutional investor demand for build-for-rent homes has surged over the past several years.  
While publicly traded homebuilders have reported fantastic results thus far in 2021, supply constraints (lumber, labor, etc) have lead to a throttling of production causing backlogs to soar.  Price gains have exceeded cost pressure leading to gross margin expansion in 2020 and YTD 2021 (table in full report below).  Homebuilders are reinvesting these record profits by purchasing more land - indicating a strong belief in their sales outlook for the next several years -putting 'their money where their mouth is' so to speak.
Here's a 6 minute audio  with Rick Palacios Jr of John Burns Consulting discussing today's homebuilding market.
FULL REPORT BELOW - includes data/charts and more commentary:
The housing market has been on fire for the past year.  Inventory (homes available for sale) remains low as existing homes are selling in record times (just 18 days).  Sellers are frequently receiving multiple offers and selling homes for above list price.  Below is an except from the National Association of Realtors March report: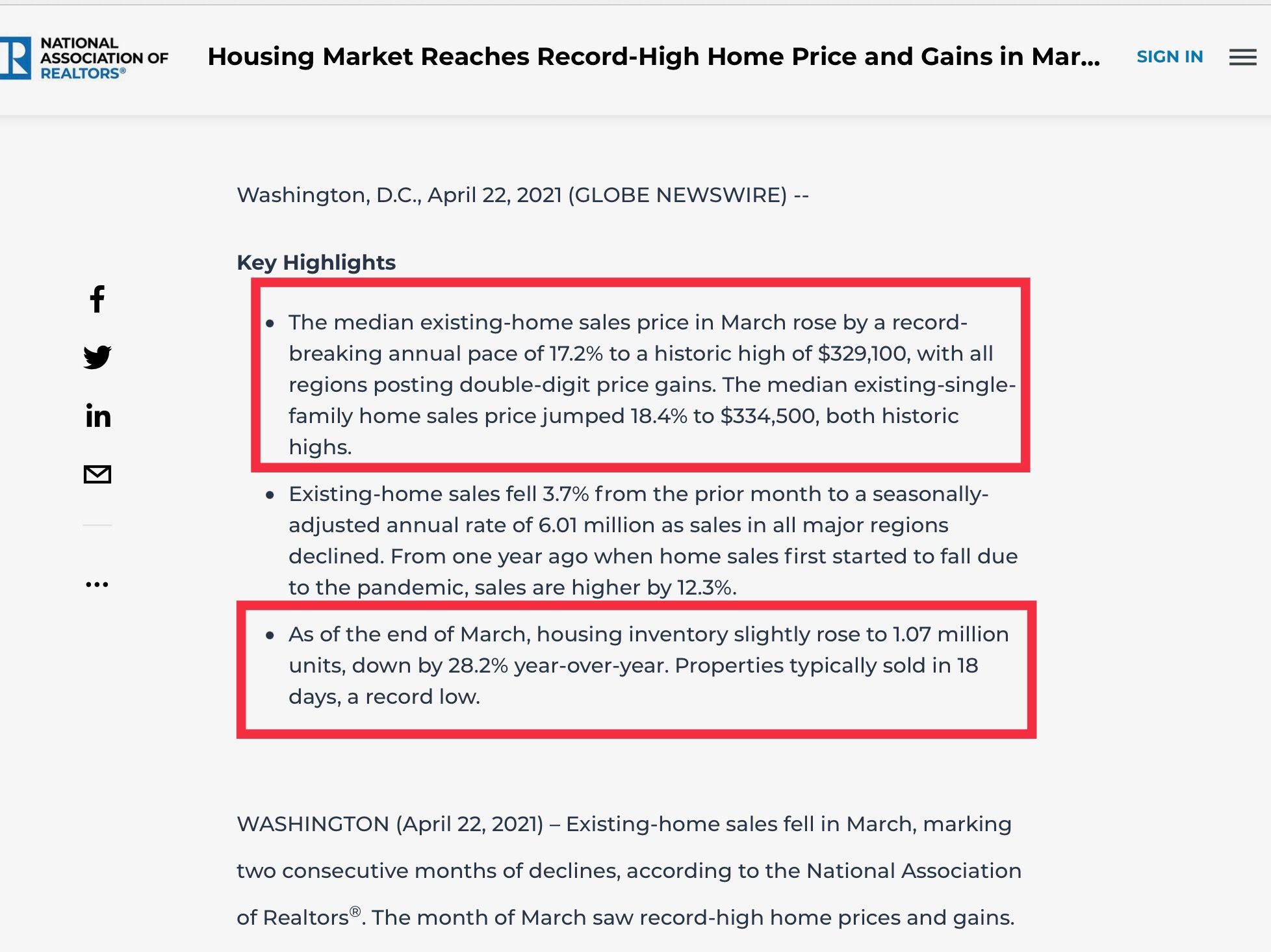 Nationally, home prices have risen at a rapid clip (17-18% YoY) due to strong demand (discussed in the next section) and a lack of inventory.  As shown below, the available inventory of existing homes is near all time lows: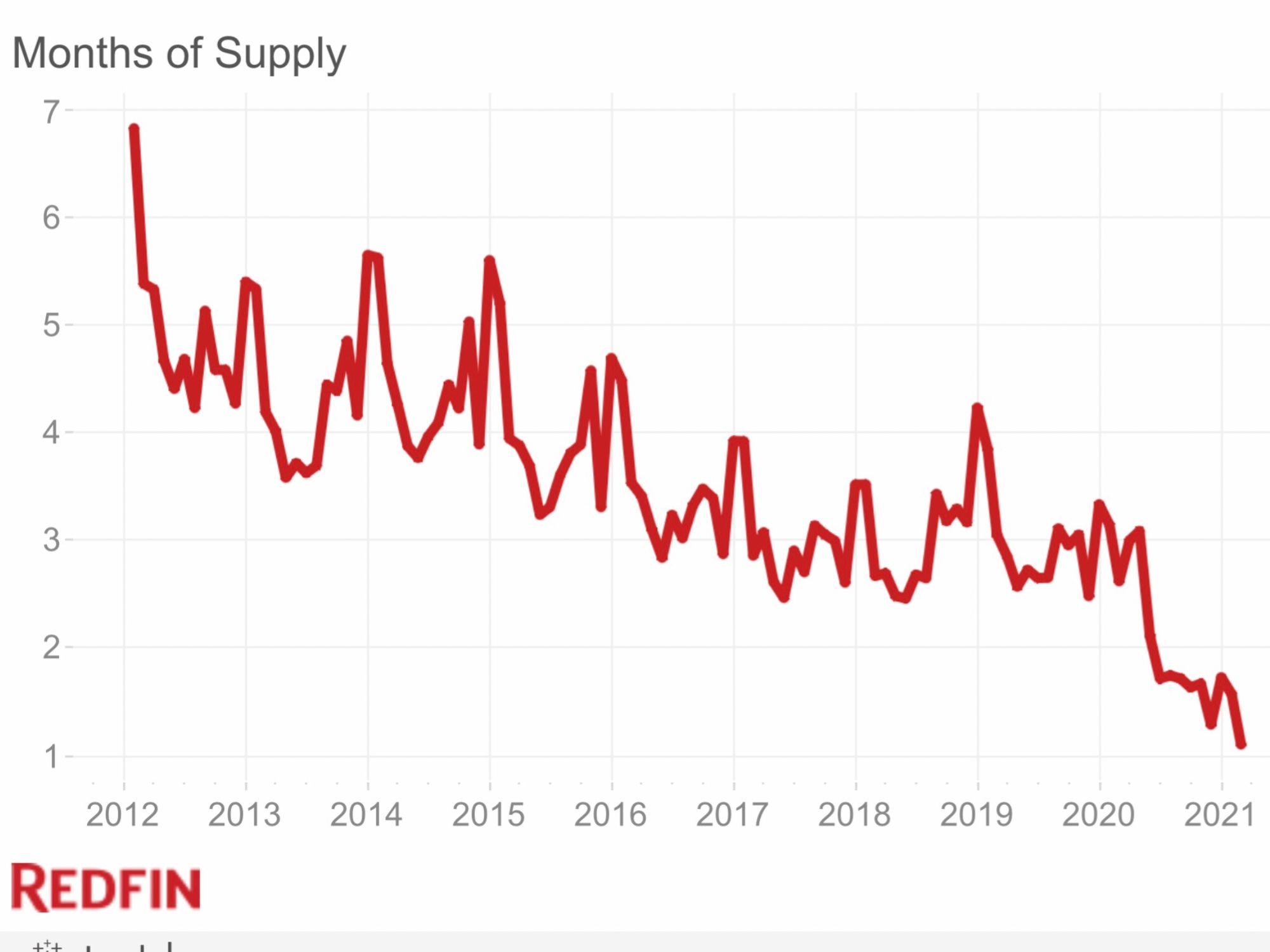 Strong demand coupled with limited availability of existing homes has lead to a very strong sales environment for new homes.  In its first quarter earnings release, Stuart Millar of Lennar (LEN) succinctly summarizes the bright outlook for US homebuilding: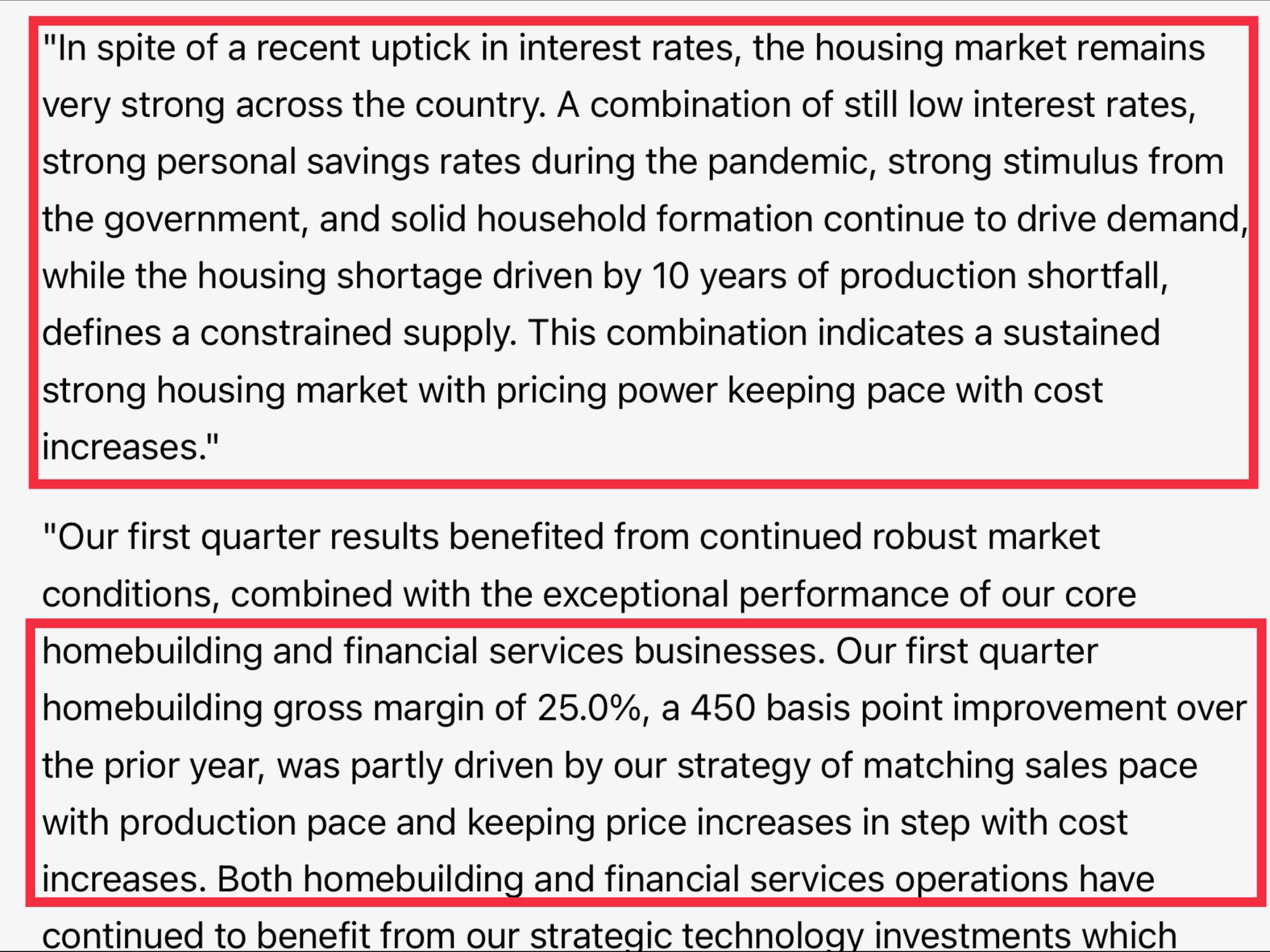 Source: Lennar 1Q earnings release
I expect that conditions in the homebuilding market will remain favorable for many years to come.  Consider:
Demand driven by the maturing of the millennials.  Millennials marrying, having children and entering their prime home buying years.  This is significant because Millennials are the largest generational group in the United States (representing ~27% of the population).
2.  Undersupply - after the last housing bust, production of new homes plummeted and stayed at depressed levels for over a decade.  The number of new homes built over the past 12-13 years has been far below historical levels - meanwhile the population of the US has grown: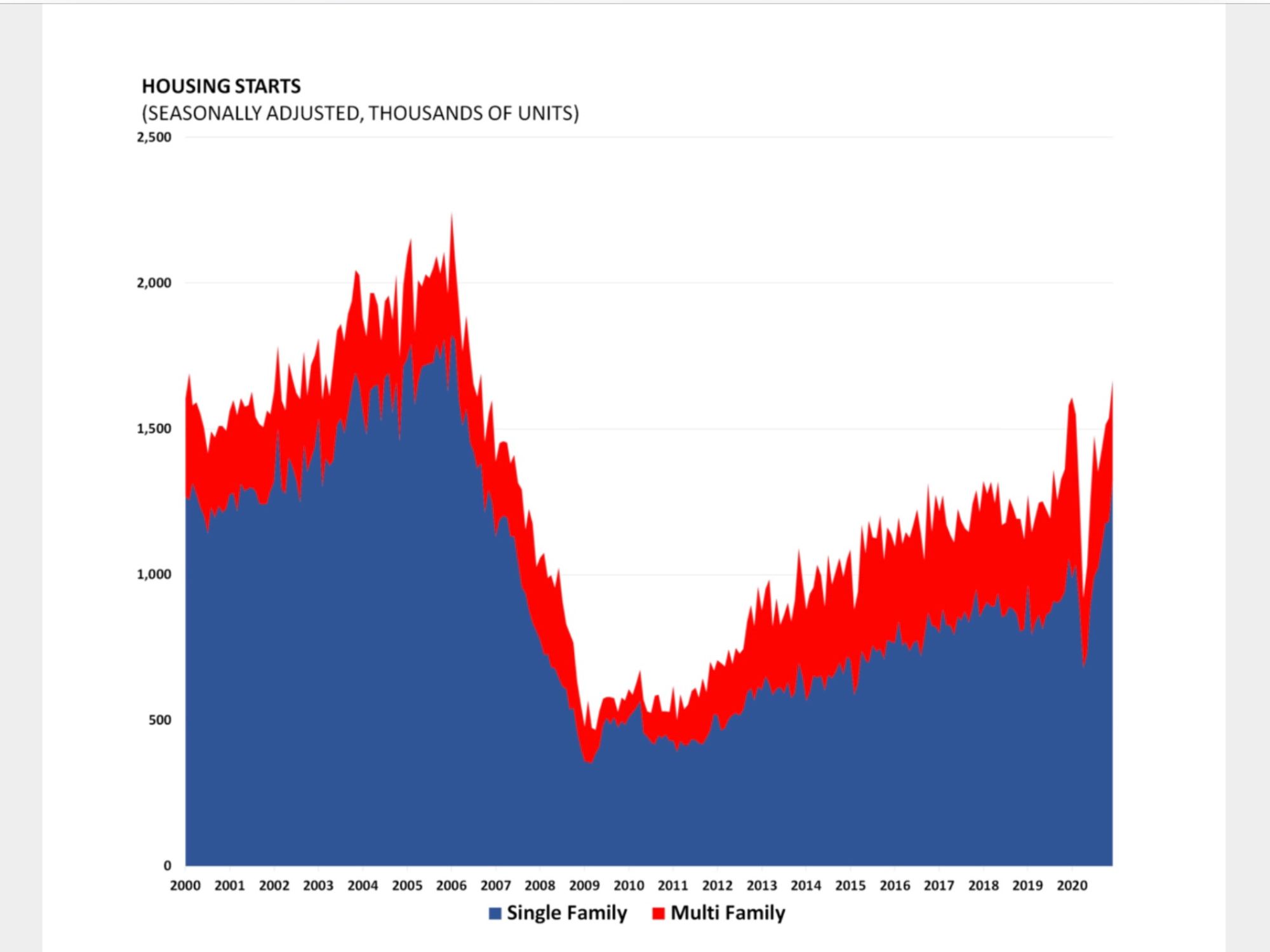 As shown above, US housing starts plummeted following the great recession.  With the US having overbuilt homes between 2003-2007, there was an excess supply of homes which lead to a nationwide decline in US home prices.  This lead to a massive decline in the production of US homes.  Between 2008-2019, the US had fewer than 1 million single family housing starts/completions.  The slide below gives longer term context for the magnitude of under-building - for a decade, new US single family home sales were below the 40 year average: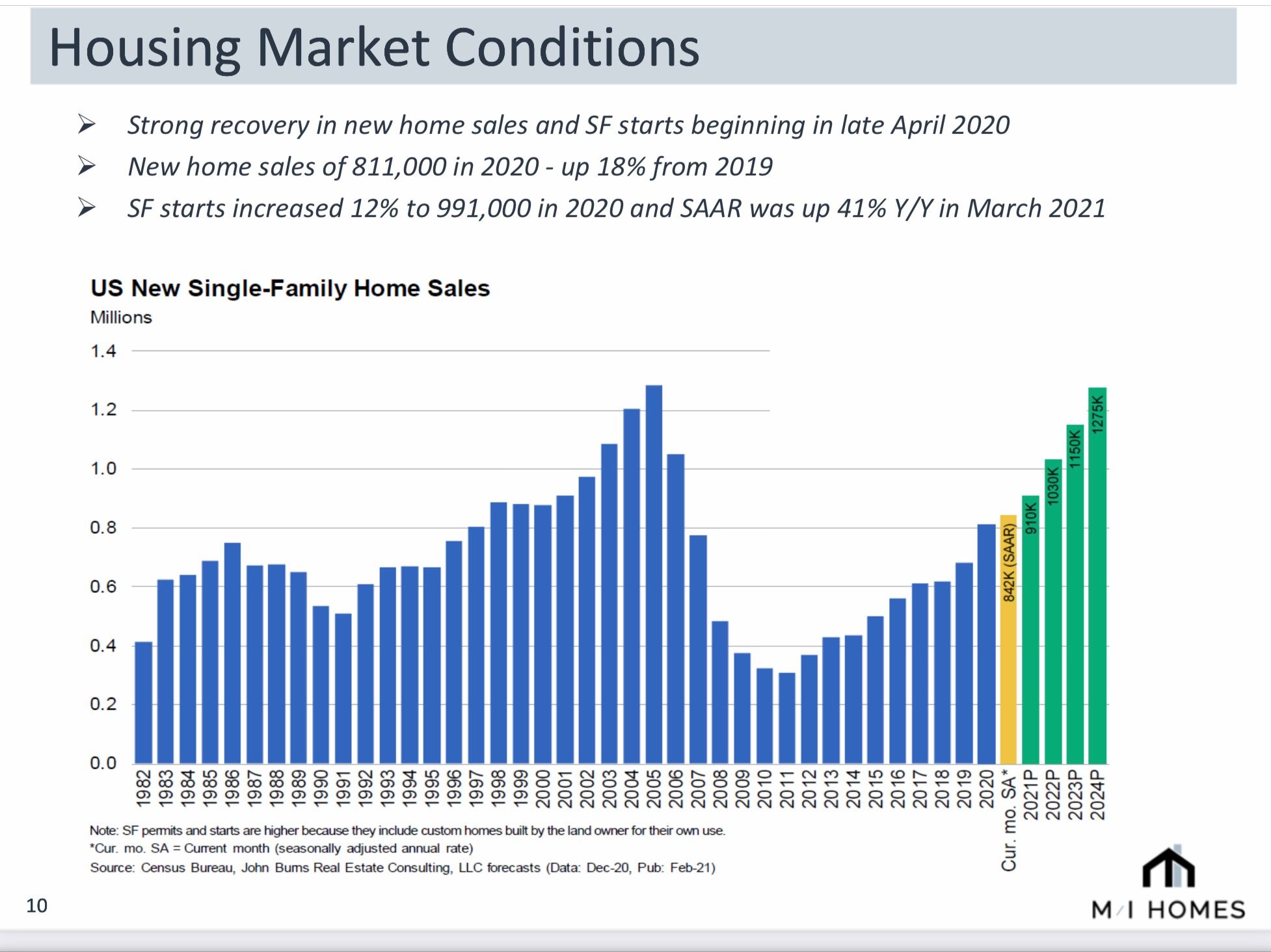 Source: M/I Homes
Meanwhile the US population continued to grow: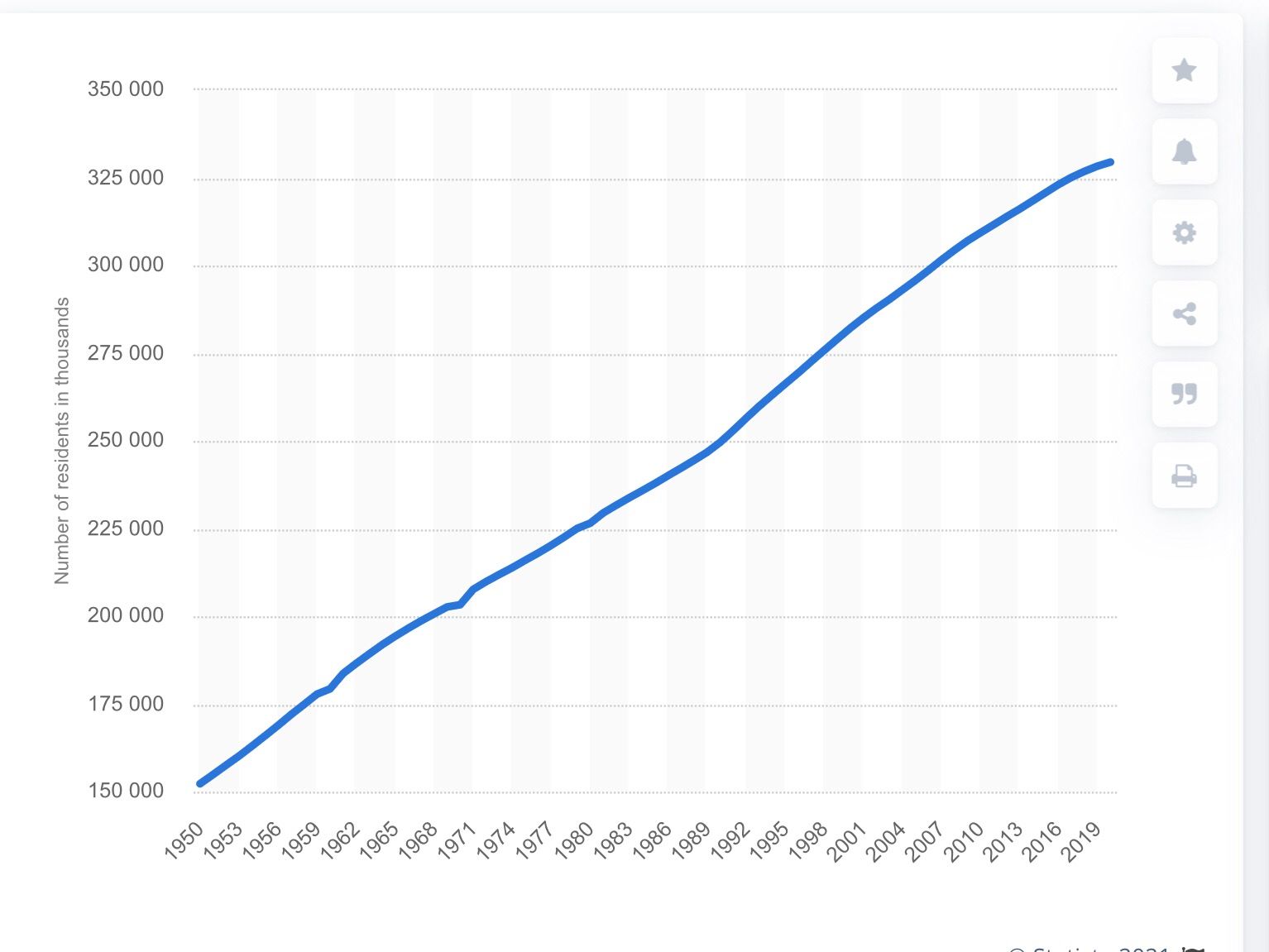 Source: Statista
3) Strong demand/limited supply coupled with near record low mortgage rates bode well for continued home price strength.  Despite the rise in home prices, housing Affordability is BETTER than it was at the beginning of the last housing boom in 2001-2002: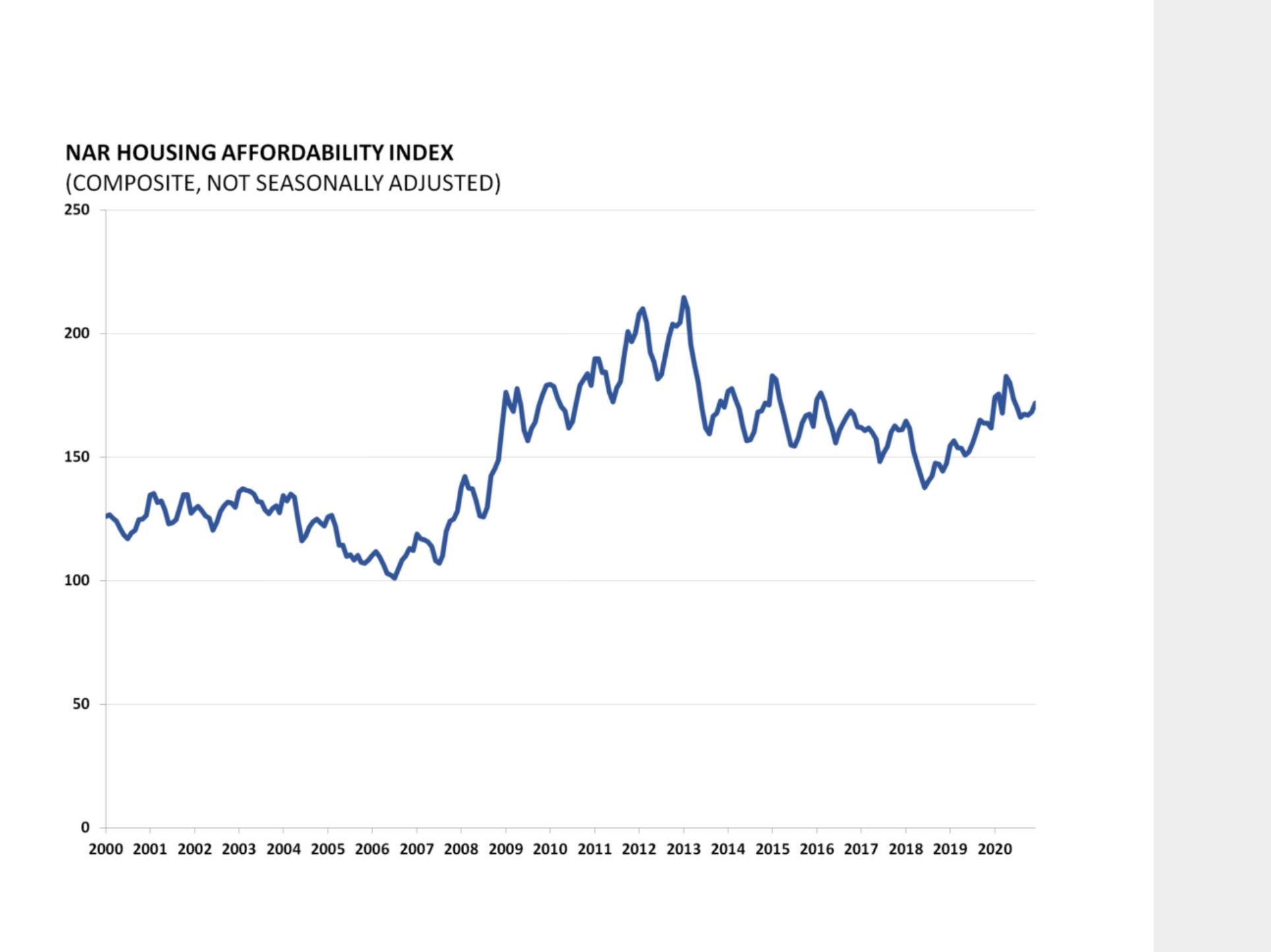 The key factors which determine home affordability are: household income, home prices and mortgage rates.  While home prices have increased, this has been more than offset by mortgage rates of 3%: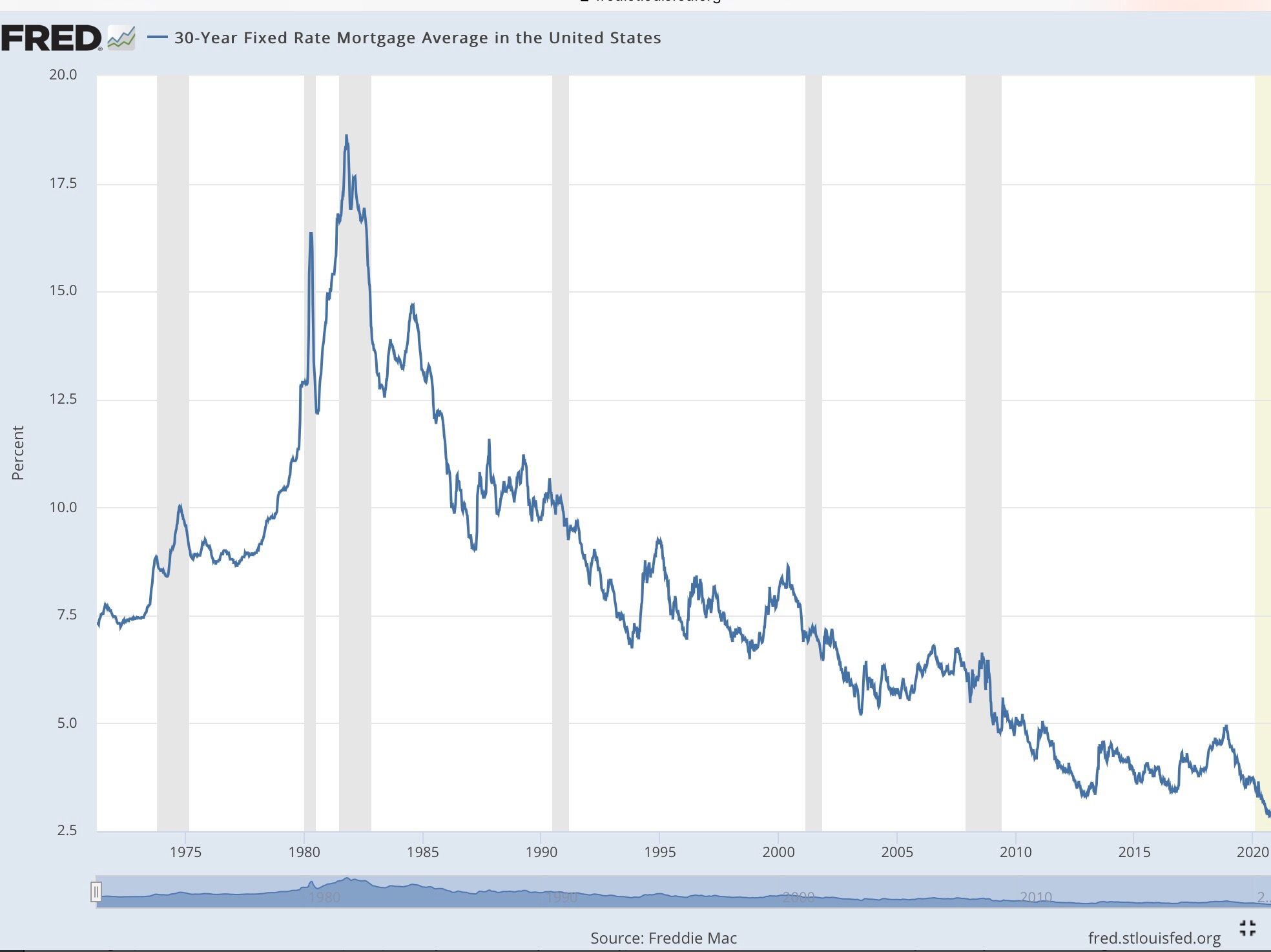 Source: Freddie Mac
Meanwhile as people stayed home (not spending during 2020) and collected stimulus payments, household savings soared (far right of chart below)- providing ample funds for down payments: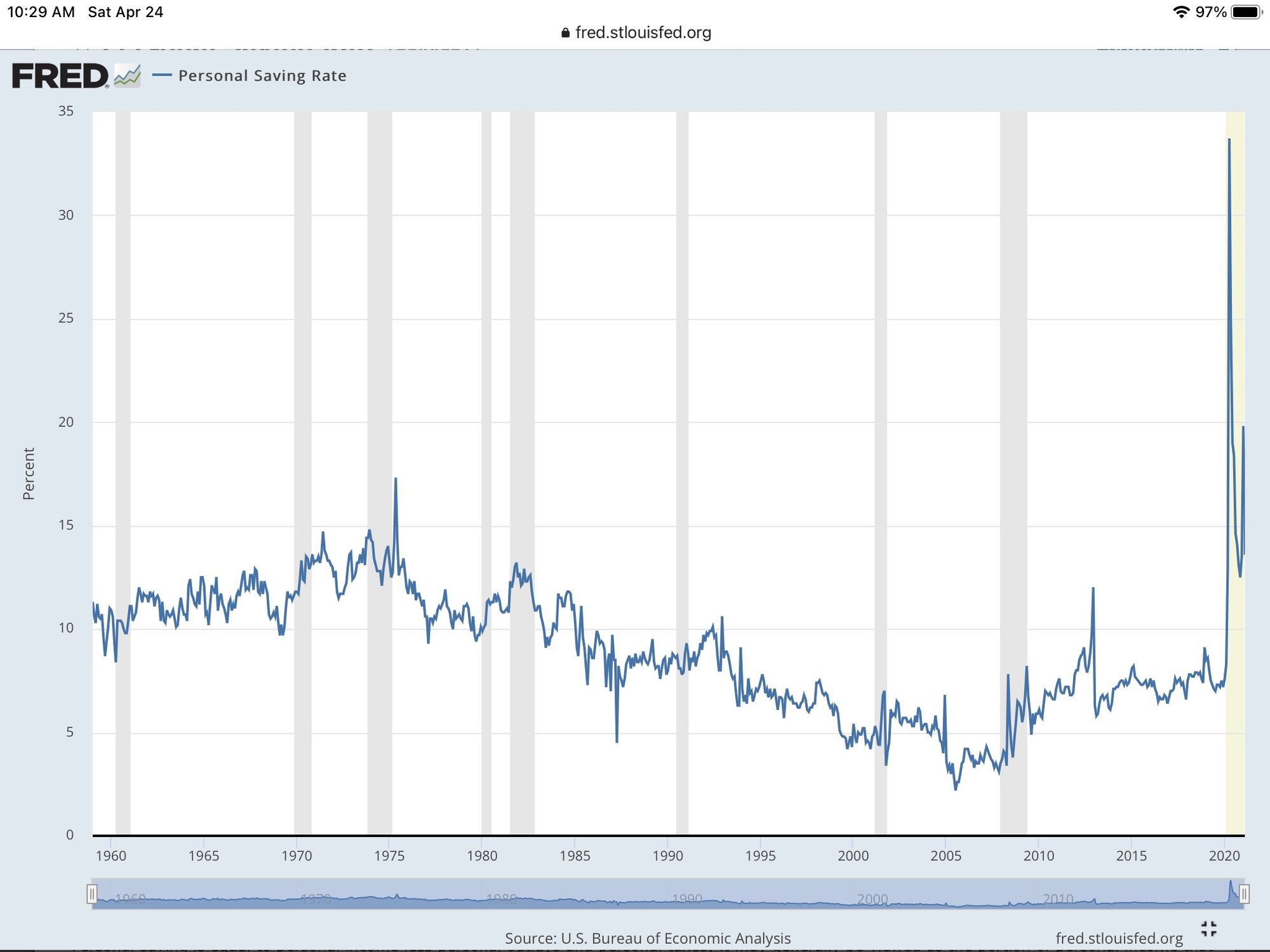 Source: US Bureau of Economic Analysis
Median sales prices for both new and existing (resale) homes have increased: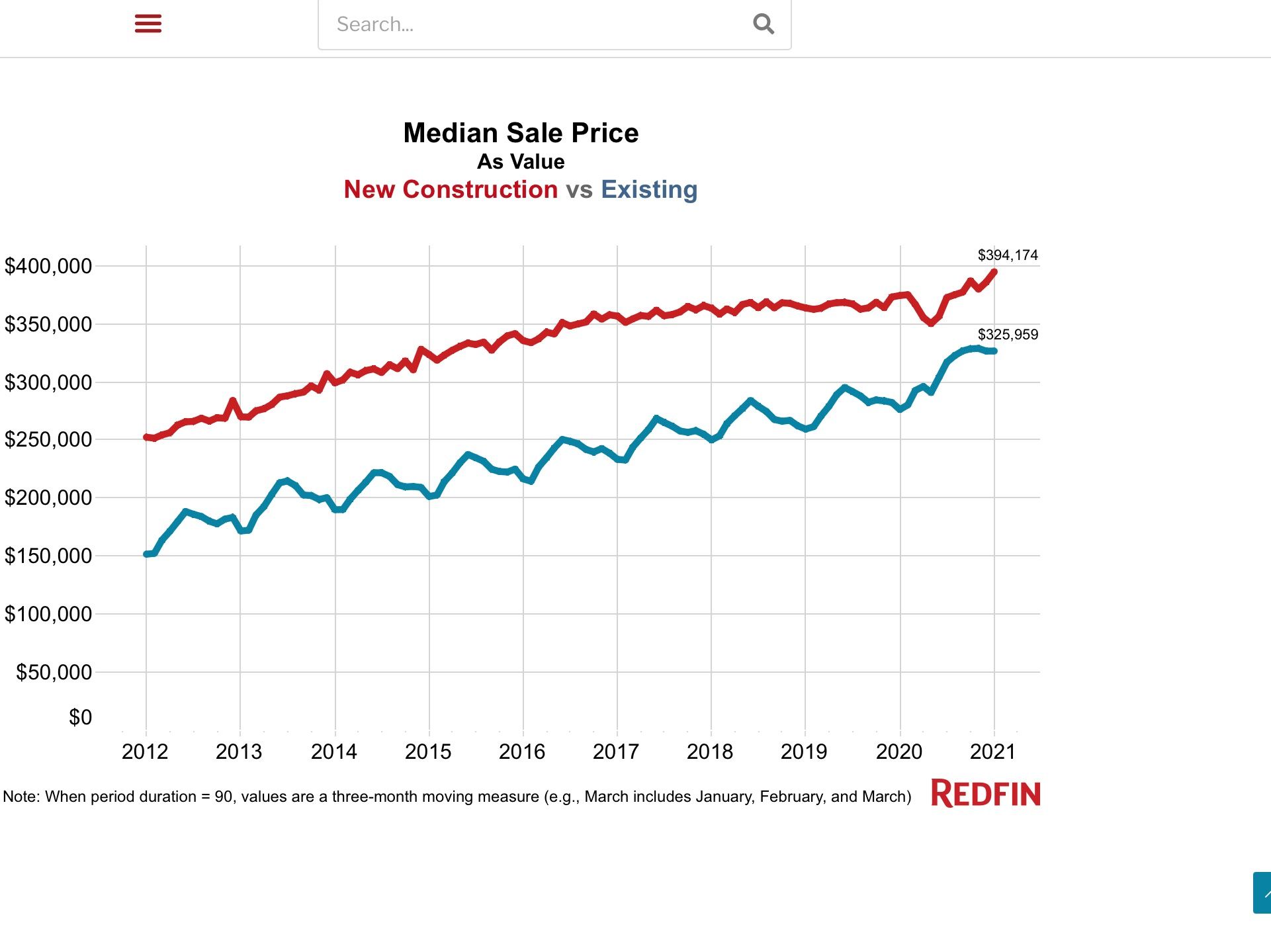 Source: Redfin
However, the pricing gap between brand new homes and existing homes ('Resale') is at the low end of its historical range, indicating that new homes are attractively priced on a relative basis: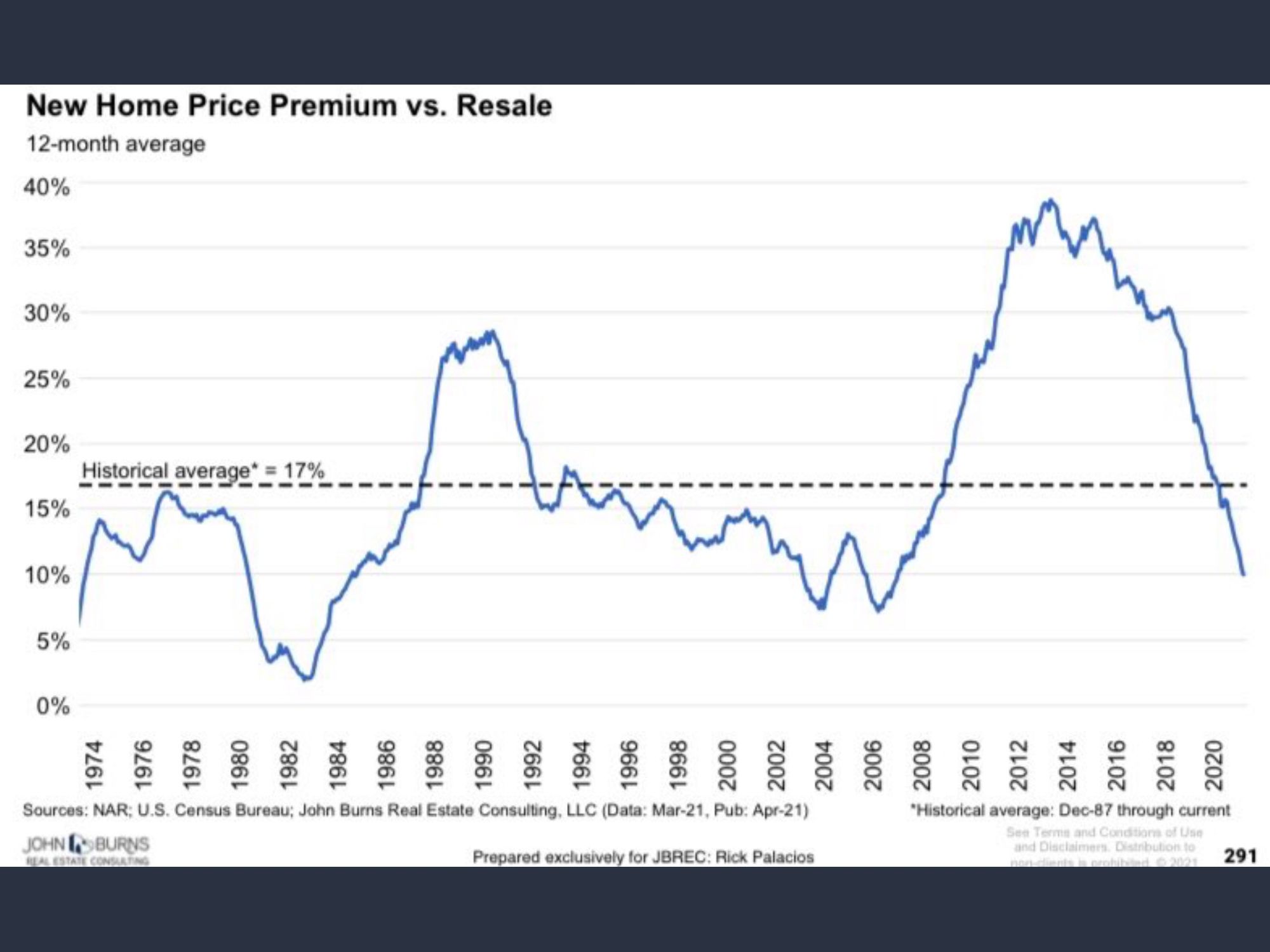 Source: John Burns RE Consulting/Rick Palacios Jr
4) COVID has increased the number of jobs which can be done from anywhere - this will allow homebuyers to move further from cities where land availability is greater and home prices are lower.
5) Unlike the last boom, this time around, lenders have maintained strict underwriting standards in making loans: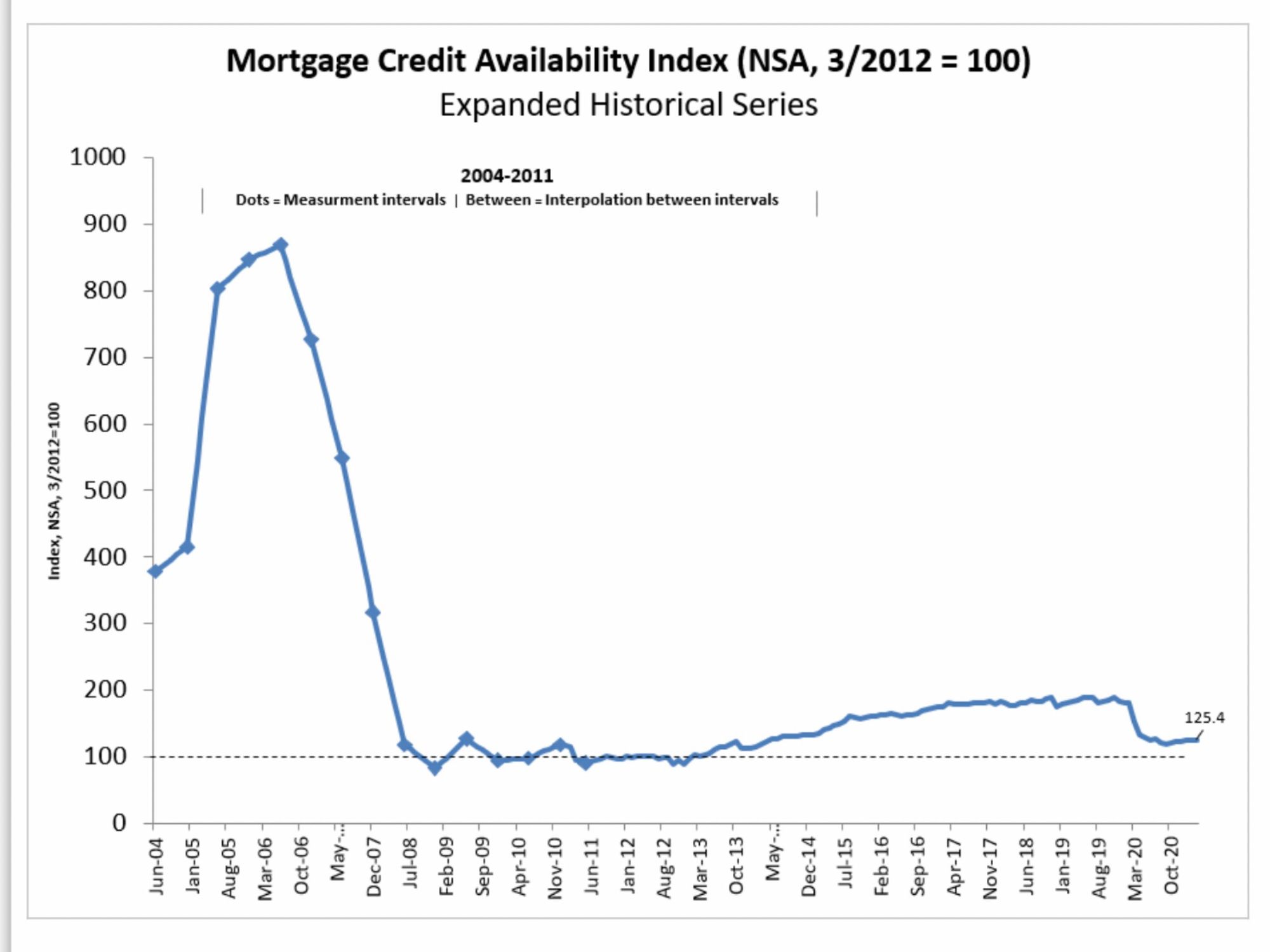 The far left side of the chart (2005-2006) reflects a time when your dog, cat, or talking parrot could get a mortgage.  This lax credit environment coupled with poor affordability and massive oversupply is what conspired to create the housing bust.  Today, lending conditions are much stricter.  This means that A) lending conditions are much more sustainable/we are unlikely to see mortgage lenders shut off the supply of loanable funds and (B) conditions could loosen - further increasing the demand for new homes - loosening conditions tend to occur as the cycle lengthens.
7) Strong pricing gains have caused margins for homebuilders to increase significantly, economically incentivizing them to plan for the future by buying more land to build more homes.  Here is a look at homebuilder gross margins:

Source: Public filings
Recent commentary from builders
From DR Horton's 2Q21 earnings call:
Source: Seeking Alpha transcripts
From LGI Homes (LGIH) 1Q earnings release: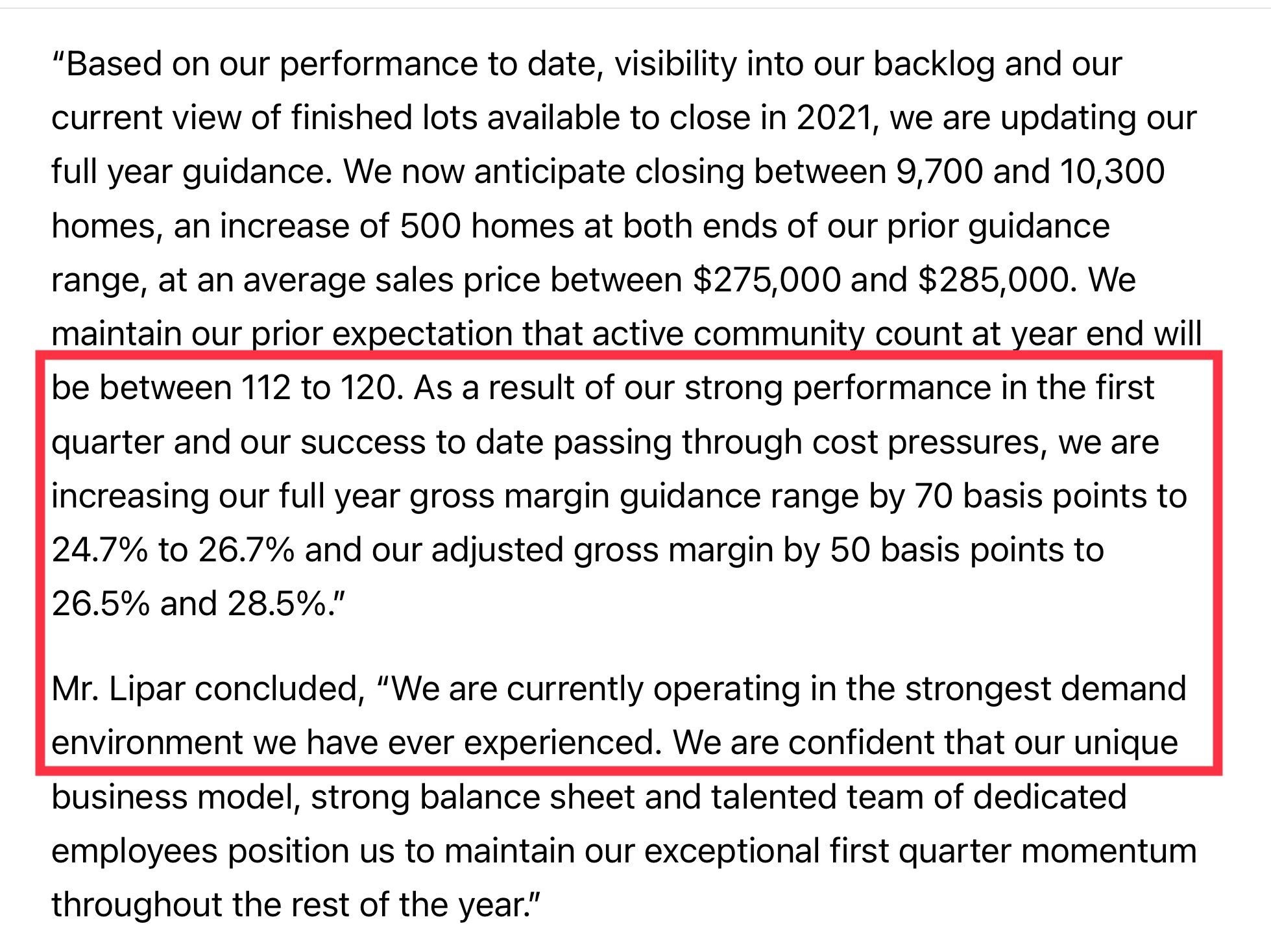 Pulte Homes (PHM) CEO Ryan Marshall on 1Q21 earnings call: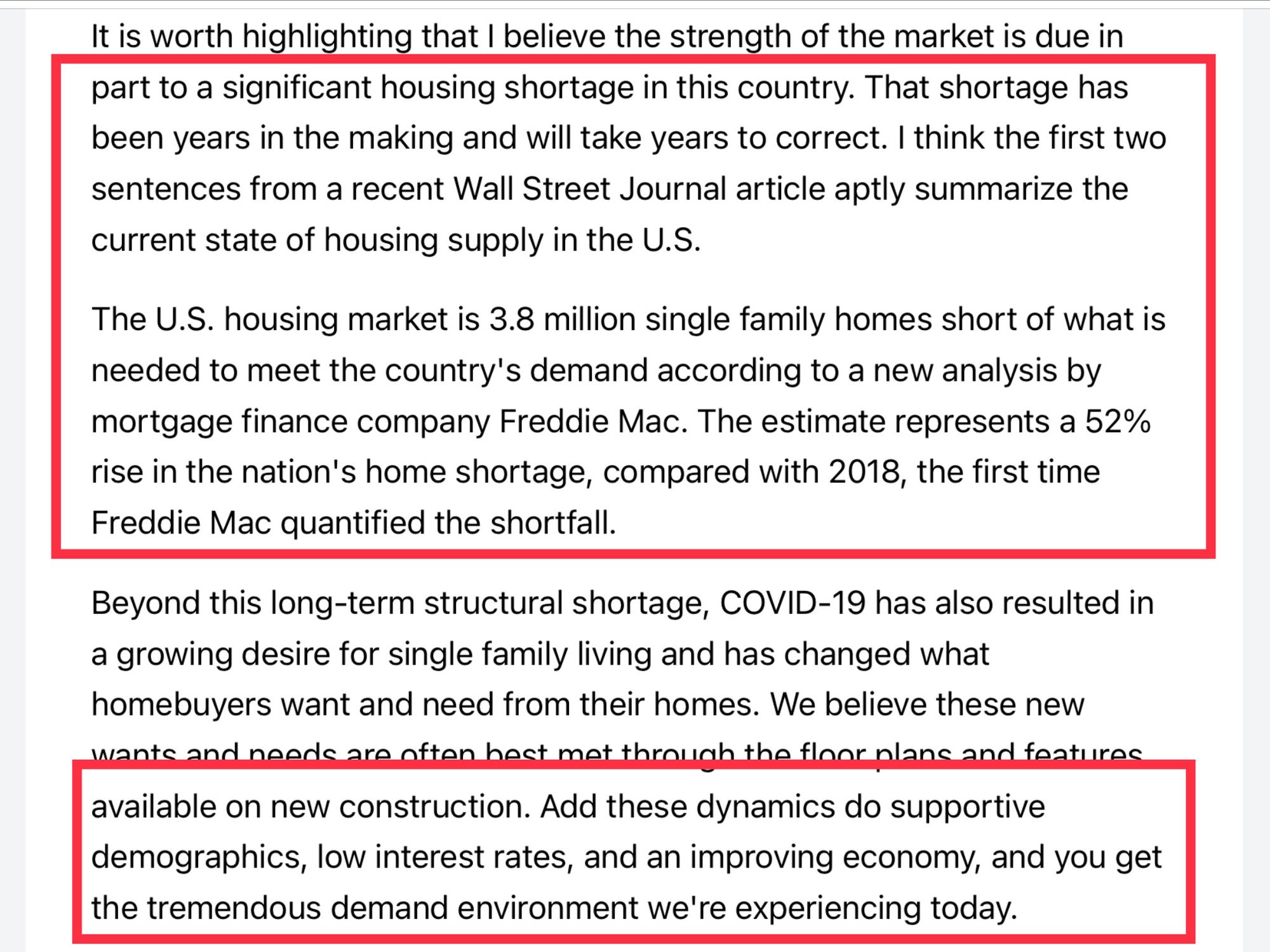 Source: Seeking Alpha Transcripts
Risks:
-Largest risk is a rapid rise in mortgage rates which would decrease affordability. The federal reserve engaged a grand monetary experiment coupled with unrestrained fiscal spending spending, inflation has increased.  To the extent that the Fed acts to cut off inflation by raising rates, this could cause a dramatic slowdown in the housing market.  
-The cost of homebuilding is increasing at a rapid clip - this is most evident in lumber but exists throughout the supply chain including labor, vinyl, steel, etc.  
-Similarly the regulations/building codes/etc are increasing the cost of new homes https://www.housingwire.com/articles/regulatory-costs-add-nearly-94k-to-new-home-prices/
Additional Resources:

6 minute audio with Rick Palacios Jr, Director of Research at John Burns Real Estate Consulting.  
https://www.zaisgroup.com/news/housing-positive/housing-to-stay-on-positive-growth-track.pdf?pdf=housingpositive
Song:
As always, this IS NOT INVESTMENT ADVICE.  Do your own work.
Private Eye Capital Newsletter
Join the newsletter to receive FREE actionable investment ideas.
---